Day one, welcome, I am happy you are here.
The goal over these next few days is to get you moving toward passing the FE Exam.
With clarity and confidence.
But we must first address the elephant in the room.
You likely filled out the survey I recently sent out asking for you to identify the number one thing standing in your way of taking the FE Exam.
And I was not surprised by the results.
I've been helping engineers just like you for over a decade pass the FE Exam and 99.9% of them started with the same exact thoughts and emotions.
And so did I.
When I first thought about taking the FE Exam, I figured it would be like any other test I had taken up to that point.
We all know the formula –
Open a book, read some text, do some practice problems, take the exam, pass and move on.
But this is how it really went.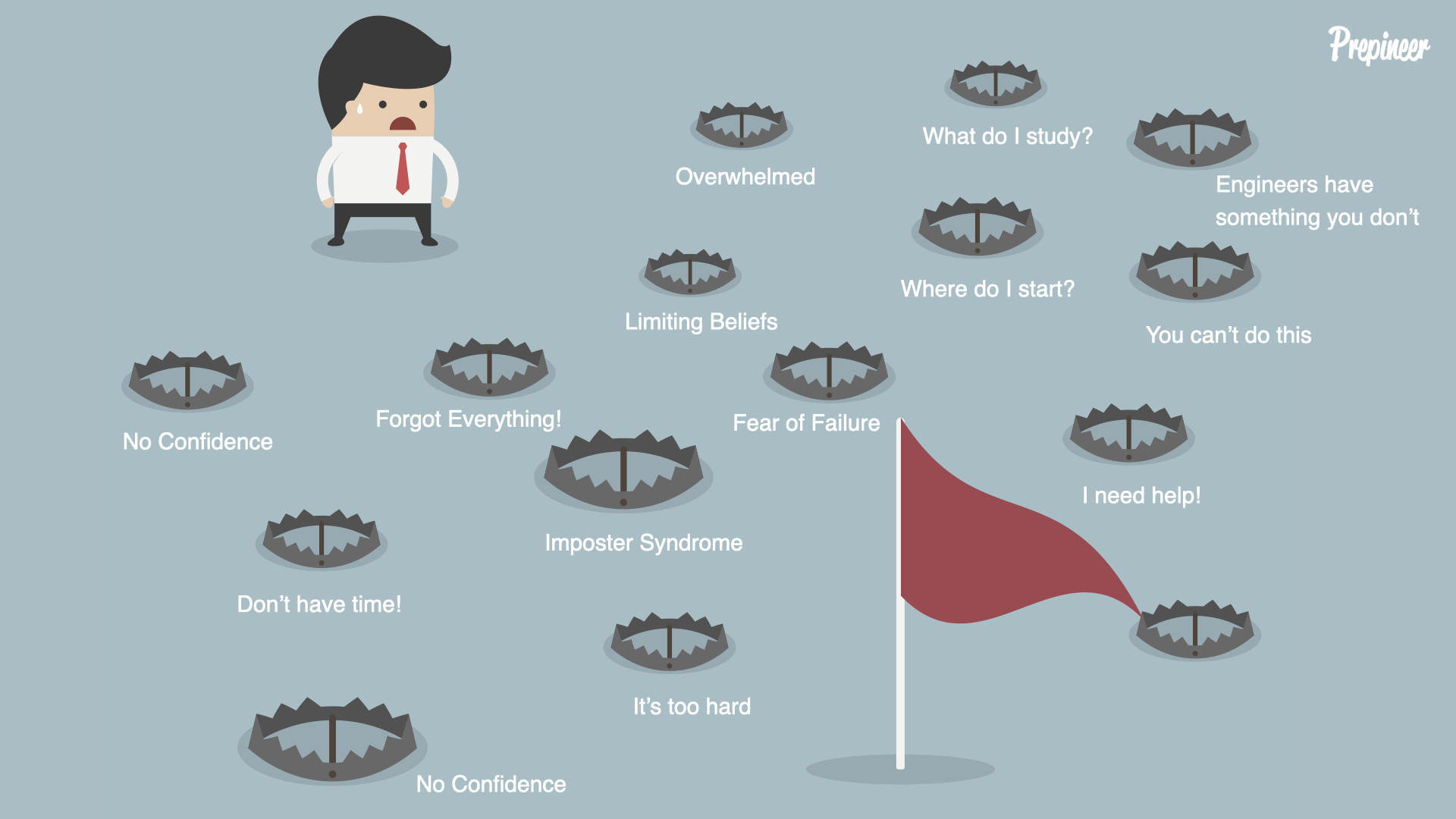 When I first started studying, I had already graduated from college and everything I learned during that time was long gone from memory.
I wasn't using any of it in the field – and I am sure you can say the same, am I right?
When I opened up my review manual for the first time I was hit with some heavy doubts.
And if I could be real with y'all, from the start I felt like I wasn't smart enough to get it done.
I felt that I didn't have enough "knowledge" to pass.
And this was when the floodgates of emotions burst open.
I convinced myself over and over that I didn't have enough time to get it in.
I told myself that it was just going to be too hard, and I camped on a fear of what others would think of me if I tried and failed.
I was flat-out overwhelmed and sold myself a narrative that those who had passed just had something I didn't.
Are you fighting any of these battles right now?
They are so common.
And that's why I want to lead off with this, and hear me out.
We all start here.
Every single person you look up to, every engineering hero you have…started right where you are right now.
"I don't think I know enough."
You think you don't know enough about Engineering. Or Math. Or Electrical Circuits. Or whatever.
There are a lot of unknowns, and because of that, you are convincing yourself that you can't move forward with taking on the FE Exam.
I will tell you, those who have found success on this exam now know that's a lie.
Once you take the first step in studying, understanding the material will return as you spend more time in review.
You can't fall into the trap of thinking you need to know everything, or have even seen everything for that matter, before you decide to move forward.
Don't focus on what you think you know right now, but focus on the people who were in your same exact shoes as you and have gone on to pass the exam and experience the new opportunities that sprung from it.
I want to encourage you to read some of the student stories we have here, you will see that you are not alone one bit in how you are feeling.
So…
Are you in the right place?
Right now, you've got to ask yourself, are you in the right place?
Should you stick around for the next few days while I lay out the strategies heling you get started on this journey?
I respect you and your time too much to not be completely transparent about those I can help the most.
So if any of these stories resonate with you, then you are in the right place.
Bonnie Mancuso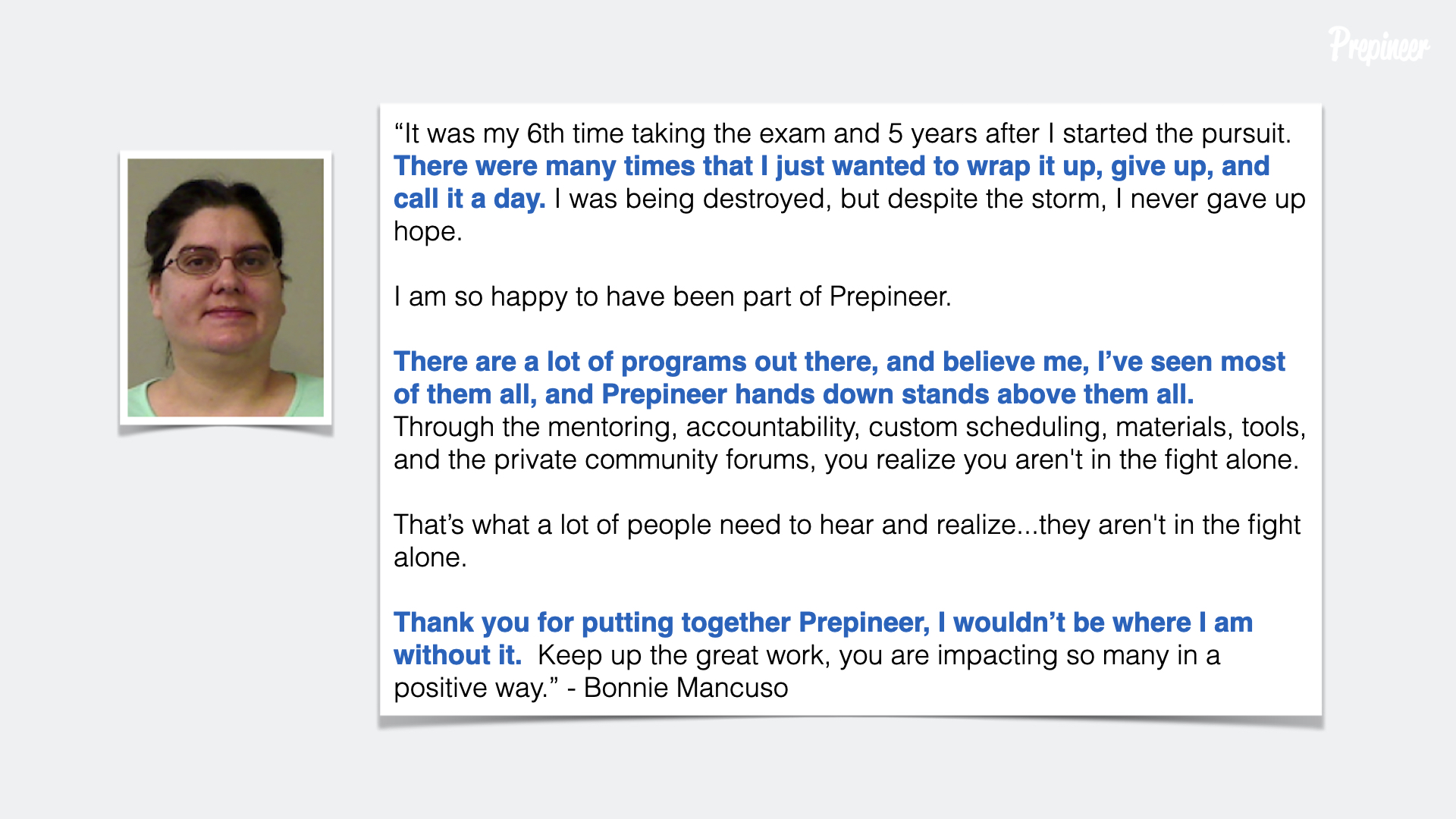 Maybe you are like Bonnie, who was over a decade out of college, had a growing family and little time to do anything other than sleep after a long day.
On top of that, Bonnie had failed the exam 5 times before joining Prepineer.
She was overwhelmed, had a ton of self-doubt and was constantly second-guessing herself every time she even thought about taking the exam again.
Zach Shepard, PE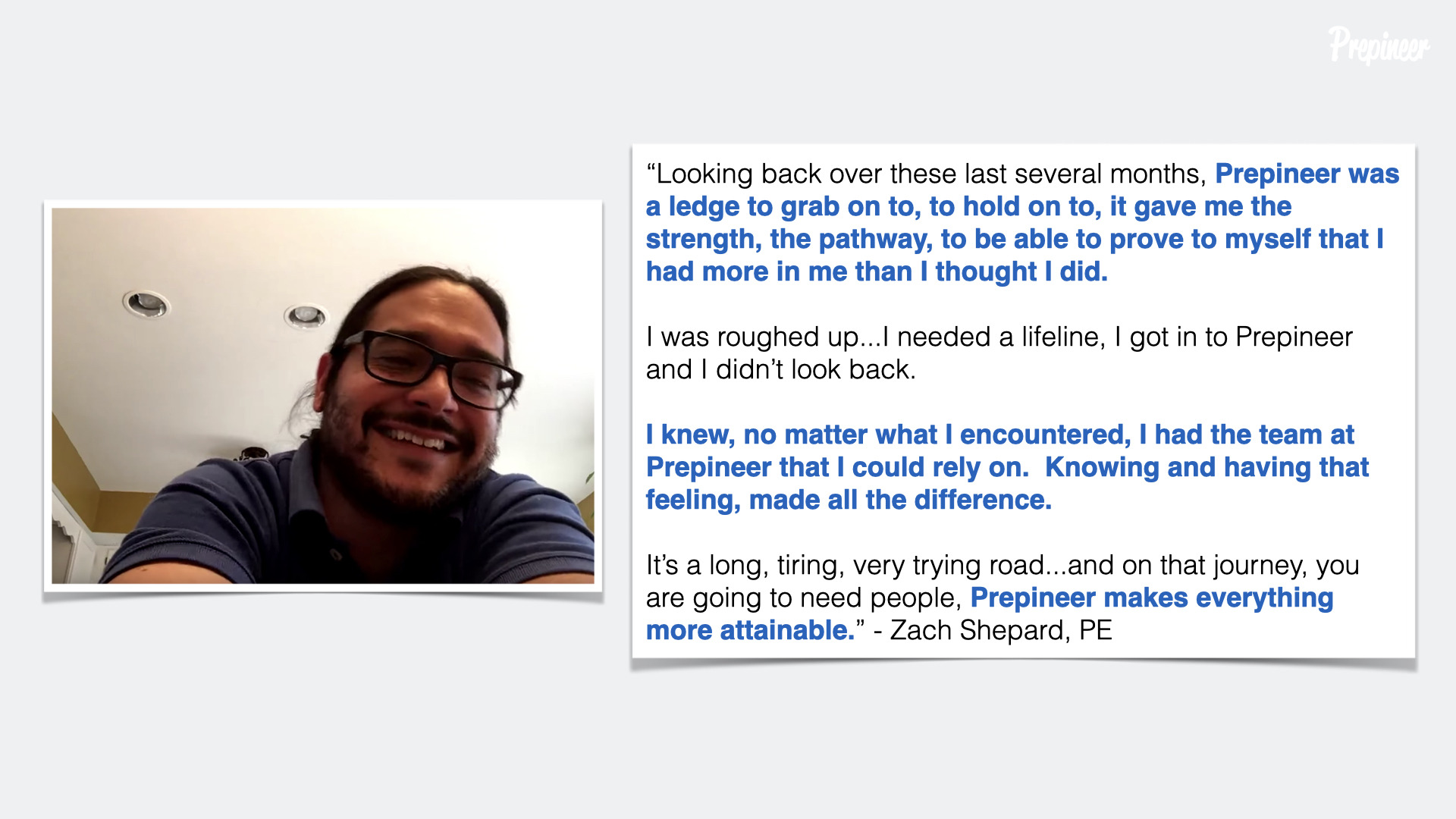 Or maybe you can relate to Zach and, like him, feel like your back is up against the wall with chances of passing near non-existent.
Zach's story is so unique, like Bonnie, he had failed the exam 5 times before joining Prepineer, but unlike Bonnie, he threw up his hands and dropped out of engineering completely because he was so discouraged with how it had gone.
Olivier Brouard, PE
Or maybe Olivier's story resonates with you, and like him, you are years out of college, and haven't seen or put into use any of the material you will be tested on in just as long.
Even more, maybe, like Olivier, you don't even have an engineering degree?
We will share a bit more about these individuals as the week goes by, but for now, if they resonate at all, I want to encourage you to latch on to hope they present and go for it.
In these next few days –
My goal is to prove no matter where you feel you are, or how much you feel your circumstances are too much to overcome, you too can pass the FE Exam.
You just have to focus on a few key strategies right now, a system, that will support you in making a successful run.
And there is a specific framework, that you can use to ensure that you get the most out of the effort you put into studying for the FE Exam.
So now that we are all on the same page, who's story to your resonate most with?
Where do you fall?
Wherever it is, I'm going to show you how to take the weight that comes from a failure, or multiple, reset, and move forward confidently on the right path to success.
I am going to break down a system of components that you can begin using today and start building momentum towards success.
Strategy
The 80/20 Framework
At the onset of this journey, without a doubt, we are going to feel some pretty heavy emotions.
We need to lean into these and our natural tendency to self-sabotage any pursuit worth doing by introducing doubt.
Today, I want to give you a strategy to help eliminate it all and get you moving forward in a productive and efficient way.
Enjoy.
Additional Resources
Other
nuggets mentioned

in this resource

The path to getting started preparing for the FE Exam can be littered with obstacles.

Here are some additional resources that were mentioned, designed to help you gain more clarity to confidently move forward towards passing the exam once and for all:
BONUS RESOURCE
Should I take the
Other Disciplines Exam?

There's only one goal when it comes to taking the FE Exam – Passing it.
At Prepineer, we have found a certain "outside the box" strategy may not only make a lot of sense – it could make the most sense for anyone pursuing this exam.
Let's get in to this strategy and those things to consider before moving forward:
BONUS RESOURCE
How many problems do I
need to get right?

There are a million questions that can come to mind when one decides it's time to start the journey of becoming a licensed Professional Engineer.
What is covered on the FE Exam?
How long is the FE Exam?
Where do I even take the FE Exam?
The list goes on.
But of all of them, let's be real, if we could know the answer to just one to get started, it'd be this:
How many problems do I need to get right to pass the FE Exam?
Let's dive into probably the most misunderstood characteristic of this exam.
BONUS RESOURCE
Prepineer
Full Review + Coaching

For over a decade now, we at Prepineer have combined on-demand, detailed learning with personal coaching that takes the mystery out of passing the FE Exam.
We invite you in to see how a step-by-step plan can help you find that success you are after.