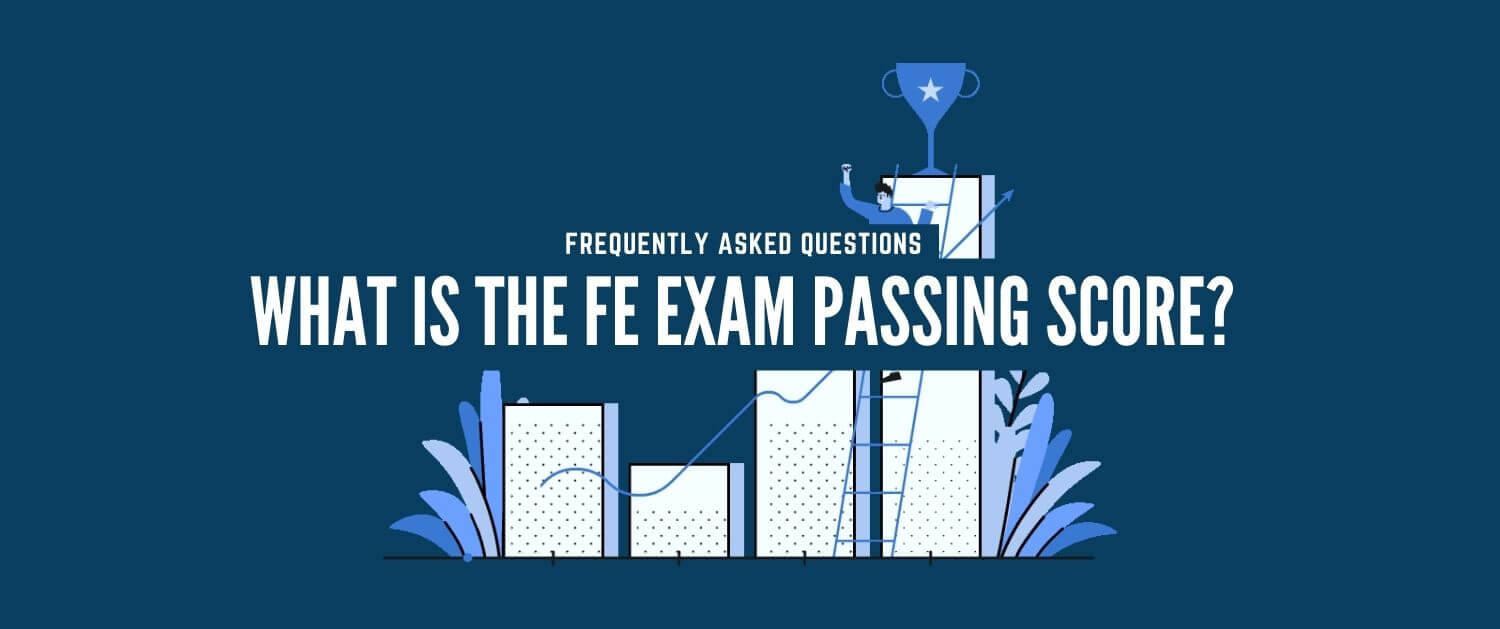 We are going to dive into the (often confused) world that swirls around the FE Exam passing score, but before we do, let's start here.
There are a million questions that come to mind when you decide it's time to become a licensed Professional Engineer.
What is covered on the FE Exam?
How long is the FE Exam?
Where do I even take the FE Exam?
The list goes on.
We get into these questions, and many more, in this resource here:
The FE Exam: What is it and why you need to take it now
But of all of them, let's be real, if we could know the answer to just one to get started, it'd be this:
What is the FE Exam passing score?
This is a question that comes in to the Prepineer headquarters on the daily.
Let's set some things straight.
Understanding the FE Exam passing score
I get it, any individual who is about to set out on any major goal in life is going to want to know where the goalpost of success lies.
Is the FE Exam passing score 50, 75, 90 percent?
Is it based on a curve?
Knowing the pass/fail threshold gives us an idea of what a successful run looks like.
It gives us a flag to plant in the sand and aim for – making it much easier to navigate the path in between.
A student came through recently asking the question like this:
How many questions do you need to answer right to pass the FE Exam?
I've heard that you need 50% from one place and 70% from another.
Other places I've looked say that nobody knows besides the people who administer the test.
The practice course I took at my University, which was designed to replicate the FE exam as closely as possible, only required us to get half of the questions right on the quizzes and tests that were given out.
So what is the FE Exam passing score?
If you find yourself floating around the interwebs trying to get some clarity around this question, then you are sure of one thing…
Confusion – and oh, a lot of wasted time.
There is only one right answer and it's that…
Nobody knows.
Ugh, definitely a letdown I know, but knowing that this is as much clarity as you will get will allow you to move on to putting in time on something that can actually make an impact come exam day.
The FE Exam passing score echo chamber
But someone told me…
There are many people out there who will flaunt confidently an exact number, but –
The moment you hear this, you need to turn and run just as confidently in the opposite direction. They are 100% wrong, they don't know and can't know.
People like to speculate based on their own "personal performance".
But just because they "feel" they passed the exam by getting half the problems correct doesn't mean that they really got 50% correct.
A feeling is just that, well –
A feeling.
The NCEES doesn't release any information about an individual's overall performance other than a simple passed or failed…period.
The (real) FE Exam passing score process
Now, I don't want to leave you hanging after all of this, so let's rally back to our letdown of an answer that "nobody knows".
Let's at least expand on the scoring process as it is outlined by the NCEES.
When you sit for the FE Exam, you will complete 110 questions regardless of what exam discipline you take.
Of those 110 questions, you are going to get a certain number correct.
This number is going to be taken and converted into what is referred to as a "scaled score".
This "scaled score" is used as an individual adjustment for any minor differences in difficulty across the multitude of exam variants.
But what does "differences in difficulty" mean?
Before each problem on your exam is released into active rotation, it is run through a control group of subject matter experts who work them in their entirety.
Fun…not so fun.
The results that stem from this effort are run through a series of psychometric statistical methods that analyze the data.
This analysis defines some "minimum ability level" for the particular set of problems you receive on your exam.
This minimum ability level, which is essentially your pass line, is then compared to your "scaled score" and if you are above it, you pass, if not, you fail, so:
Scaled Score > Minimum Ability Level = PASS
Scaled Score < Minimum Ability Level = FAIL
And soooo – about the FE Exam passing score
This is as definitive of an answer that anyone can give to you.
The NCEES does not publish any passing scores nor does it give us the means to quantify it based on experience.
But let's touch on two final nuggets of clarification:
Nugget 1: There are no predetermined percentage of individuals that will pass or fail, all variants of the exam are scored the same way.
Nugget 2: First-time takers and repeat takers are graded to the same standard.
We will get more in-depth in answering these questions individually, but these two seem to naturally manifest as one navigates the "What is the FE Exam passing score" rabbit hole.
So that's that, a few clarifications that will now allow you to move forward tackling the more important components of FE Exam prep.
So you want to prepare for the FE Exam, but…
There seems to be a duality of thoughts that come to mind when one thinks of studying for the FE Exam.
On one side, it is overwhelmingly clear how doing so will help us in our career.
On the other, we have heavy doubts on whether or not we could pull it off.
I get it.
But what would passing the FE Exam mean to you?
If I offered to personally walk you through a program we developed that has helped even the most self-doubting, confidently prepare for and pass the FE Exam, would you take it?
There's no reason why you should keep putting it off when I am confident that you are able to get it done now. Click here for the details and see just how possible passing is.