A Prepineer Guide
How long should I study for the FE Exam?
This is the ultimate guide to determining how long you should study for the FE Exam.
Down to what it all looks like from a daily, hourly effort.
After more than a decade of helping engineers at all stages of life, I have seen this very process give many the courage to take a first step that once seemed impossible.
It has also given many the clarity needed to sustain the effort through to the end.
I hope it does the same for you.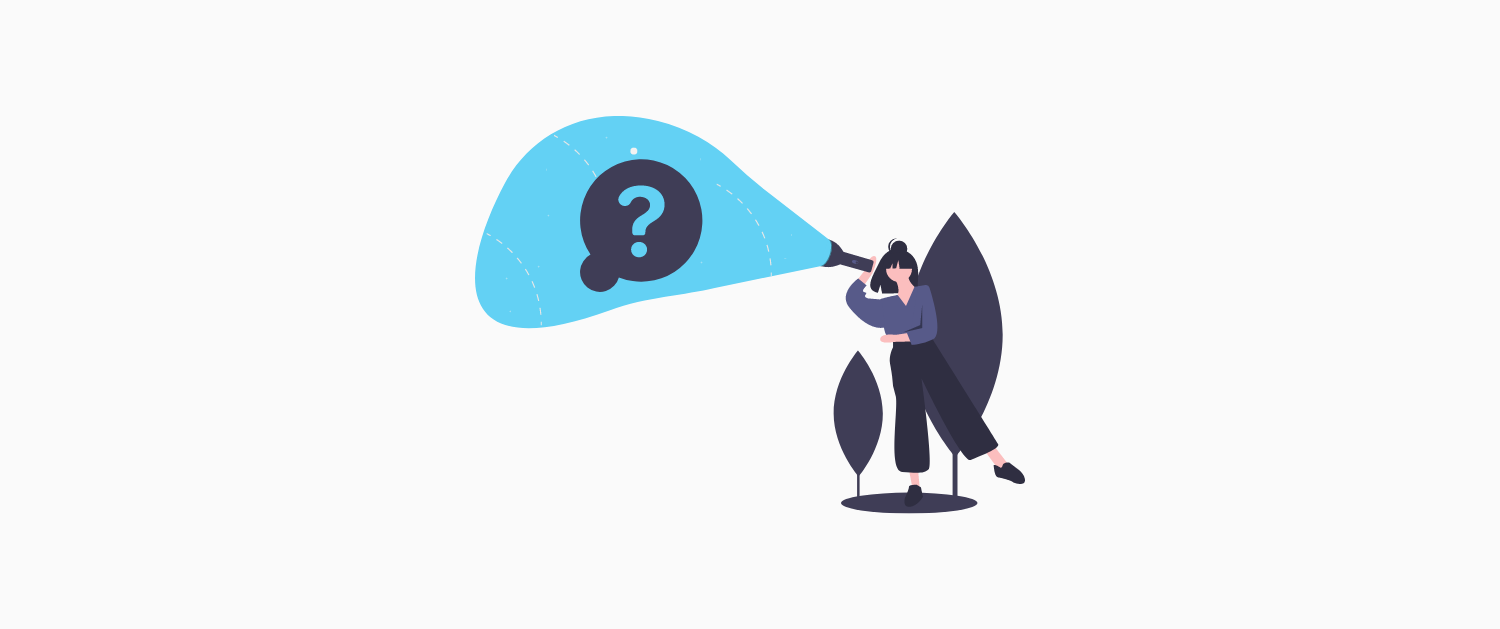 I know at the beginning, there are a lot of questions about the FE Exam.
There's the "am I going to remember enough from college" type of questions.
Then you have the "where do I take the exam" type of questions.
Then you have the "how long should I study for the FE Exam" type of questions.
All the unknowns will be answered in due time.
But it's those that are directly affecting the most important aspects of the whole journey that really matter – now.
I have been doing this long enough to have confidence in saying that the question isn't whether or not you can pass the exam –
Without a doubt, you can.
But more, is preparing for the FE Exam something that you can fit into your already time-strapped life.
What does it all look like from the perspective of daily effort?
In this guide, I'll be answering the question we all have…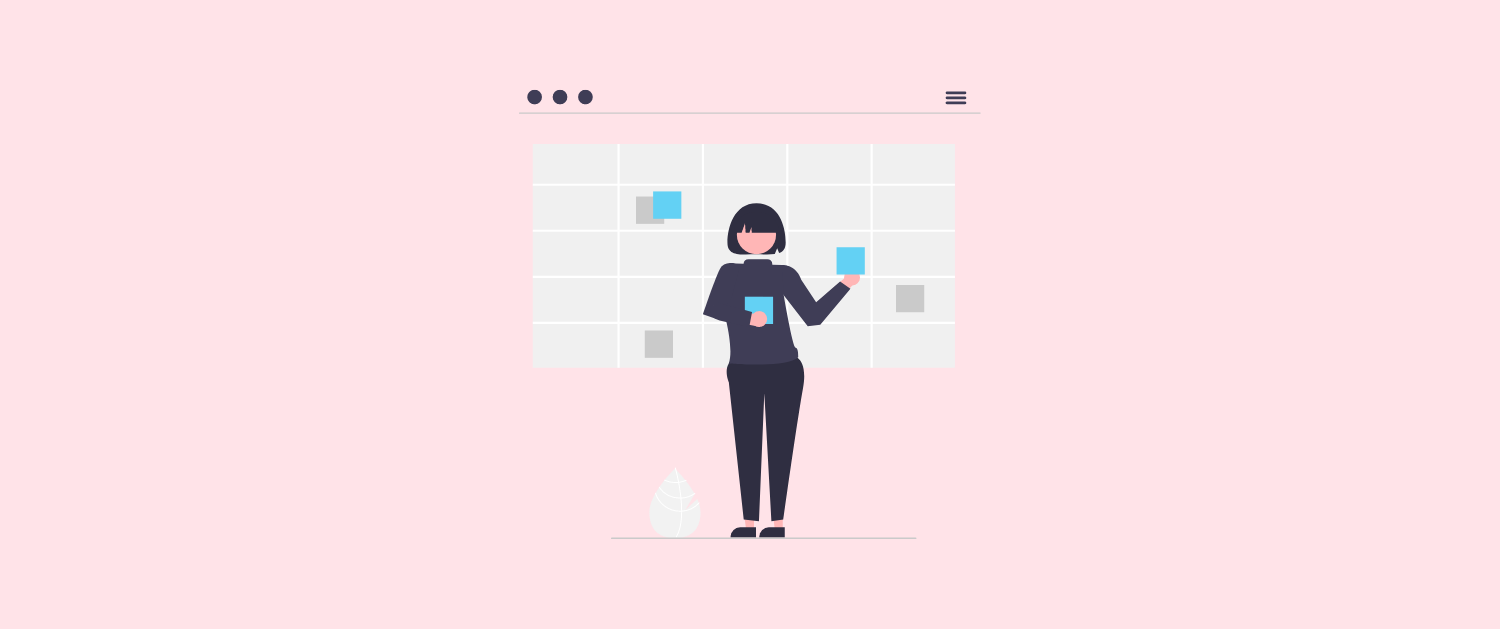 How long should I study for the FE Exam?
By the end, you will have the most accurate picture of what it will look like so that you can move forward with clarity and confidence toward success on the FE Exam.
Here is an overview of how we will get you there:
STEP 1: Get real with yourself
STEP 2: When do you want to take the exam?
STEP 3: Get it on the Calendar
STEP 4: What's this look like on the daily?
STEP 5: Final rough adjustment and go
BONUS #1: No time to study? Do this.
BONUS #2: The best way to study for the FE Exam
One thing to note before we get into this process.
This effort will result in a starting point for how many hours a day you should be studying for the FE Exam.
It will require that you have a desired test date in mind, or a general feel for when you'd like to take the exam.
It will use this single point of data and output what you should be doing daily to get you prepared by the desired date.
Now, if on the other hand…you already know how many hours a day you can study, but don't know how long it will take for you to be prepared, then use this guide instead:
How long should I prepare for the FE Exam?
This guide works the same process from a different angle, taking the hours you know you can put in daily and converts that into the total number of days it will take for you to be prepared.
It will give you a better understanding of when you could expect to be ready if you don't already have a date in mind.
So with all that being said, let's get into it.
STEP 1: Get real with yourself
The first step in all of this is to get real with yourself.
The FE Exam is all about validating that you have a solid grasp of all the fundamentals of Engineering.
These fundamentals stem from those lower-level foundational courses we took in college.
All the way back to our freshman year.
So though we may feel like we shouldn't haven't any issues recalling the material, the reality is…
The day we stop using the theories, they are rapidly purged and replaced with more relevant and useful information for life.
So we must check ourselves.
You can go as basic or granular as you want at this point.
Going basic…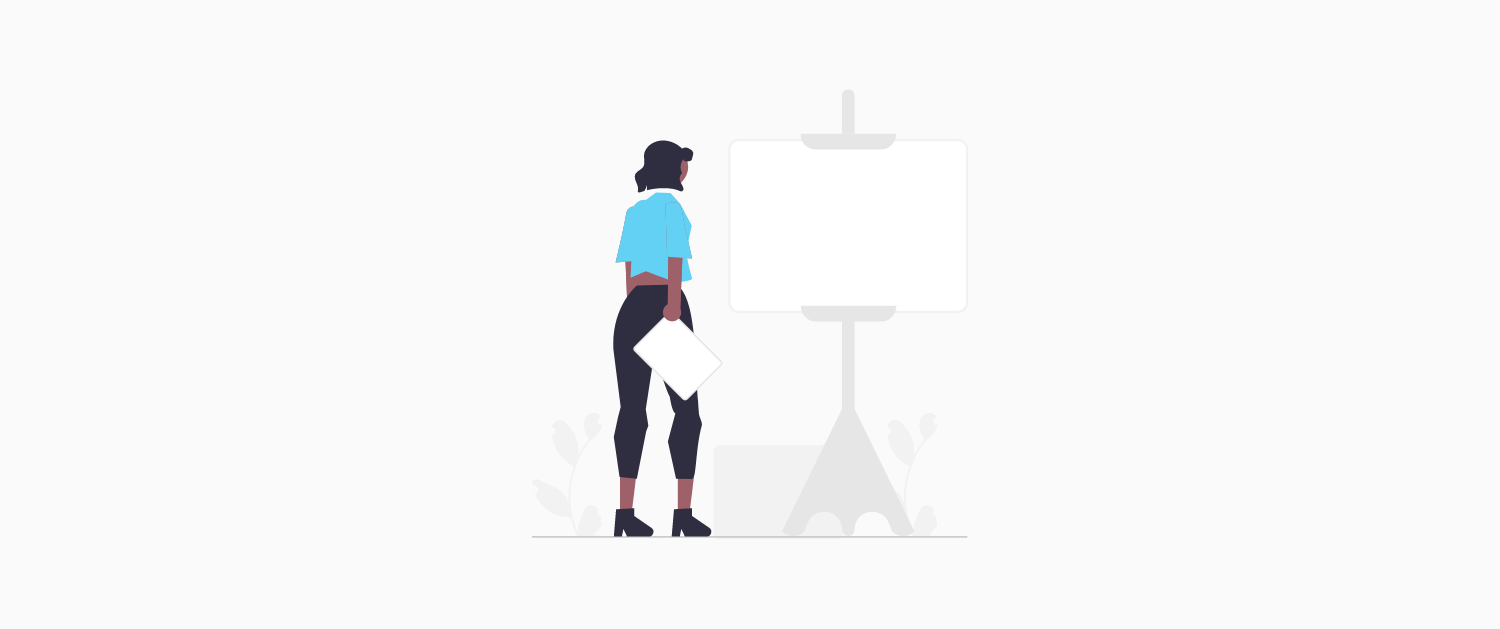 Going basic would simply be accepting that you have completely forgotten everything, or –
It can be telling yourself that everything that will be on the exam will be easy money.
Making a basic call is subjective and leaves a lot of room for error in what is actually the case in regards to where you stand intellectually at this point.
But it's an acceptable starting point.
You just have to be ready and willing to adjust as things become more objectively defined as you get into your studies.
Going granular…
On the other hand, you can get granular here.
Assessing at this level will ultimately lead to you getting a more accurate picture of what this whole journey is going to look like.
The more granular you go, the better your understanding will be of your current knowledge base in all areas of study.
This is an objective starting point that allows you to make better decisions as you ramp things up.
For example, say that you know you are solid in Engineering Economics, but not so much in Probability and Statistics.
If you have a study plan etched out, you can adjust how your time is spent as you are making your way through these two areas of study.
To illustrate this further, say your study plan gives you a total of 10 days to get through both of these subjects.
Each allotted 5 days of that total time.
With a granular understanding of where your strengths and weaknesses lay, you can project that you would be better off spending 3 days in Engineering Economics and the remaining 7 days in Probability and Statistics.
Going granular allows you to make these on-the-fly adjustments ahead of time to avoid any of the pitfalls of time that may occur had you not fully defined where you stood.
Now, in the case that granular is the way you will go, I first want to applaud you.
But that does get us to this point…
What's going to be on the FE Exam?
How can we best assess where we stand currently with all the subjects that are going to be on the FE Exam?
The first step is to know exactly what is going to be on the FE Exam.
There are 7 discipline specifications to choose from when taking this exam, all of which can be referenced on the NCEES website here.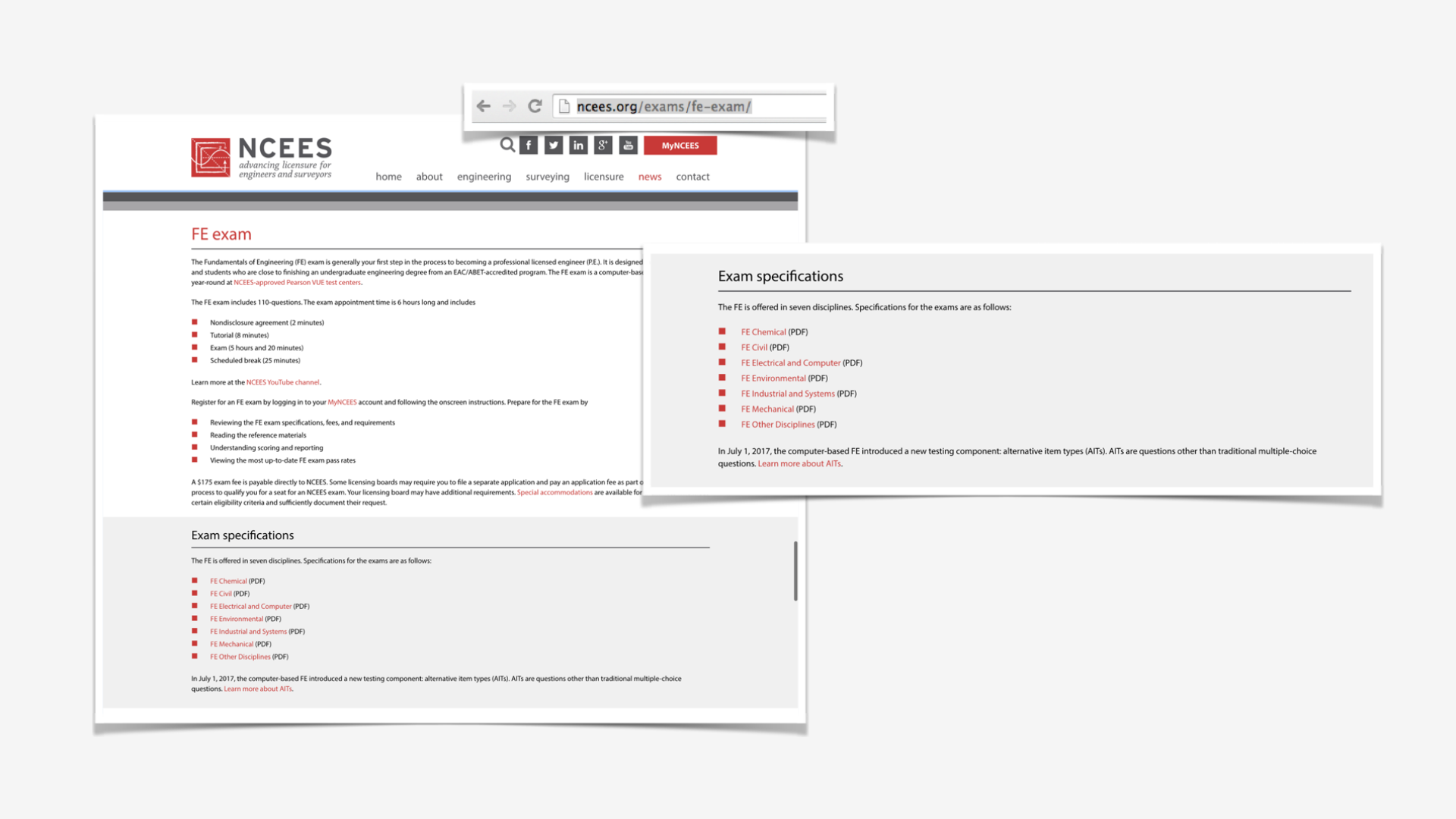 You will see that the major 6 engineering disciplines are covered, and then you have a specification referred to as the FE Other Disciplines.
At Prepineer, we prepare all of our students for the Other Disciplines exam regardless of discipline background.
This isn't a guide to get into the whole "why" behind this approach, but if that's something you'd like to explore more, we get you up to speed on this strategy in this article:
What should I consider when deciding whether or not to take the Other Disciplines exam?
For the sake of brevity, we will assume that you will be taking the Other Disciplines exam.
The most current NCEES specifications can be referenced here:
The Other Disciplines Specifications
Gather your materials
From Mathematics to Statics and Materials to Thermodynamics, there will be 14 areas of study that we must establish some feeling of how stout we are at a foundational level.
Of course, we aren't going to remember everything about everything, and that's OK – that isn't the goal right now.
Right now, we just want to get a general understanding of those subjects where we have a better base knowledge versus the others.
To begin establishing your baseline, I suggest that you spend the next 3 days gathering as many resources as you can that slot into each one of these subject areas.
You can do this using Google, or your books from college, or even at our YouTube Channel at EngineerInTrainingTV.
The goal is to get enough material to use so that you can dive in and see how well you have retained the theory within each area.
With all your material lined up, set aside a few hours a day to start getting into each of the subject areas.
The NCEES specifications do a nice job of breaking down each subject into its subtopics.
Assess your strengths and weaknesses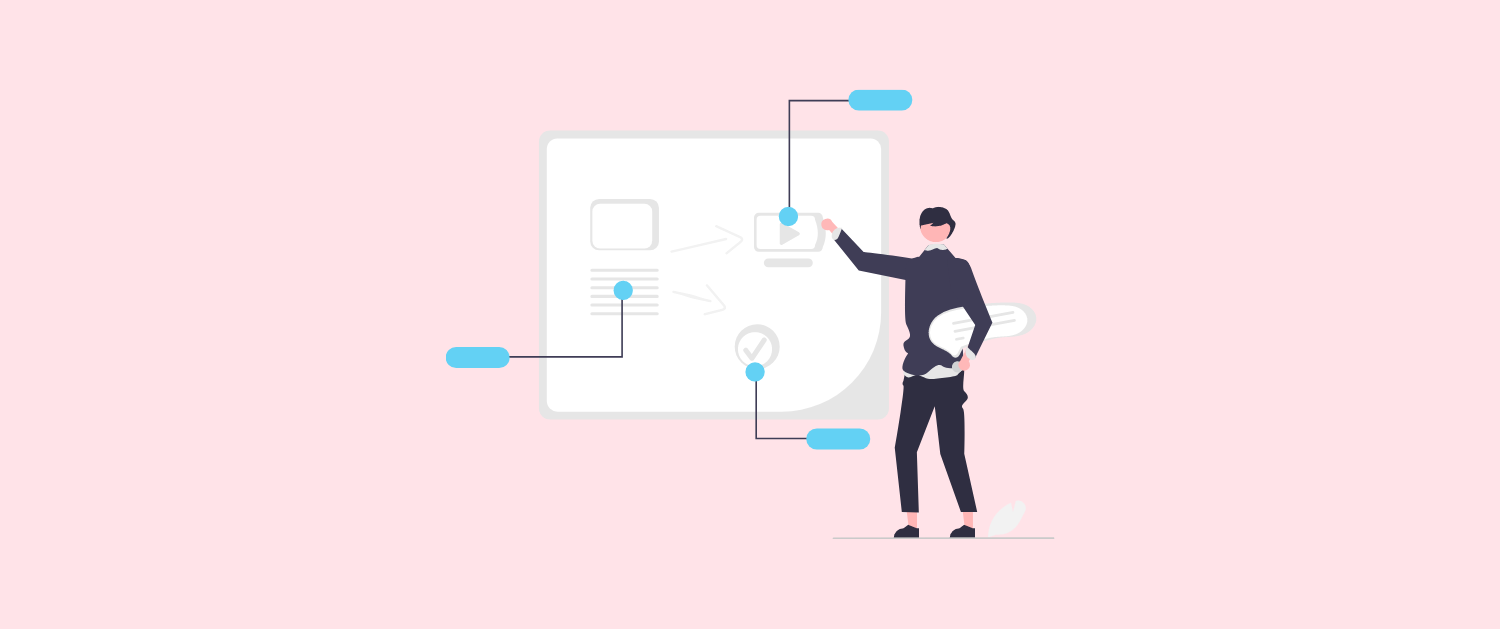 A solid way to go about this is as followed:
1. Select a single subtopic
2. Randomly find material from your resources that land in this area
3. Do some practice problems
For example, the first subtopic within Mathematics is Analytical Geometry and Trigonometry.
What you should do is grab the resources you have gathered, flip to these areas, or find videos on our YouTube channel, and start working on practice problems.
No matter how fundamental that material is, you will likely be rusty right upfront –
And that's OK.
Read through the solutions, begin to dust off the cobwebs and continue working problems.
What you will notice going through this process is that some material is going to come back faster than others.
While others will feel very foreign – and stay that way.
These are your strengths and weaknesses.
Take good notes on each area as you are making your way through.
Take an FE Exam practice exam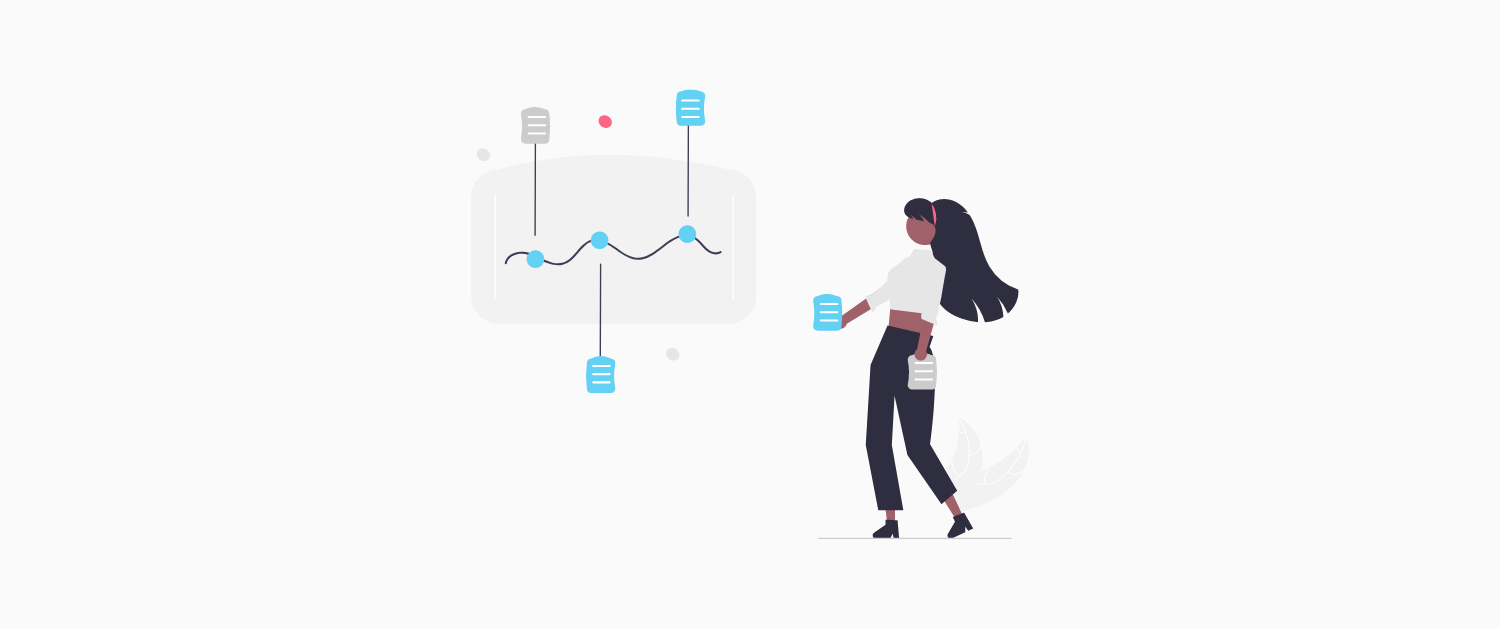 As an alternative to this process of gathering all the various resources, you can take a diagnostic exam specifically developed to efficiently hone in on where your strengths and weaknesses.
At Prepineer, one of the first activities we do with each of our students is define precisely where their strengths and weaknesses lie.
We do this by having them work on a specially designed diagnostic exam – which is essentially an abbreviated version of the real FE Exam.
We also review their past NCEES diagnostic reports if they had any previous attempts with the FE Exam.
It doesn't matter how old the diagnostic reports are, the more data points that we are able to establish up front, the better we can project out and deploy our time over the entire journey.
Should you go granular?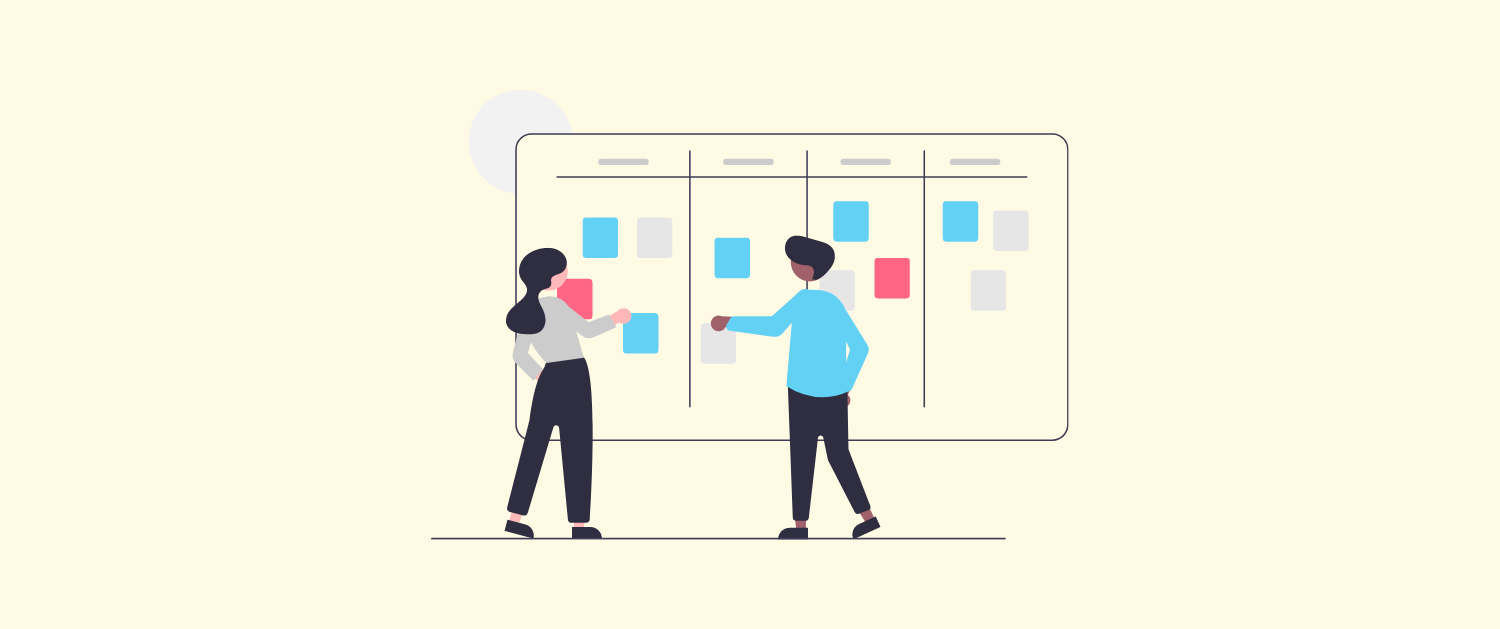 Establishing a baseline at such a granular level will be the thing that helps you determine the most accurate picture of how long you will need to study for and ultimately be prepared for the FE Exam.
It's going to allow you to plan out your studying time based on how much of an improvement you need to make in each area based on your baseline starting point.
It will also ensure that you aren't spending too much time in an area that you are already proficient in.
Post-college and into a real-world life of responsibilities, time is certainly not something we can afford to be fickle with, especially when it comes to studying for the FE Exam.
Spending this effort up front will go a long way in making sure that your efforts are both efficient and productive.

STEP 2: When do you want to take the FE Exam?
With your strengths and weaknesses now firmly established, it's time to get into building out our best projection.
Some assumptions will need to be made, but in the end, the whole result can be tweaked to accommodate as new things are revealed along the way.
Many students come to Prepineer without a set test date, and that's OK.
However, they do have a general feel for when they'd like to get it done.
And you likely do as well.
This is an important nugget of information to establish as it will drive much of how our time will be distributed across the board.
This distribution of time will tell us objectively right at the start whether or not what we desire is realistic or whether we need to make some adjustments to fit our ultimate goal.
So think about it for a moment.
Do you have a big vacation coming up that you'd like to get the FE done before?
Maybe you have family coming into town at some point?
Or maybe you have an upcoming annual review at work?
If you don't have a set test date, right now is the time to at least get a desired date in mind.
It can always be adjusted if at the end of the day it doesn't look like it's going to work out, but having something to work with at this point is crucial.
How many days should I study for the FE Exam?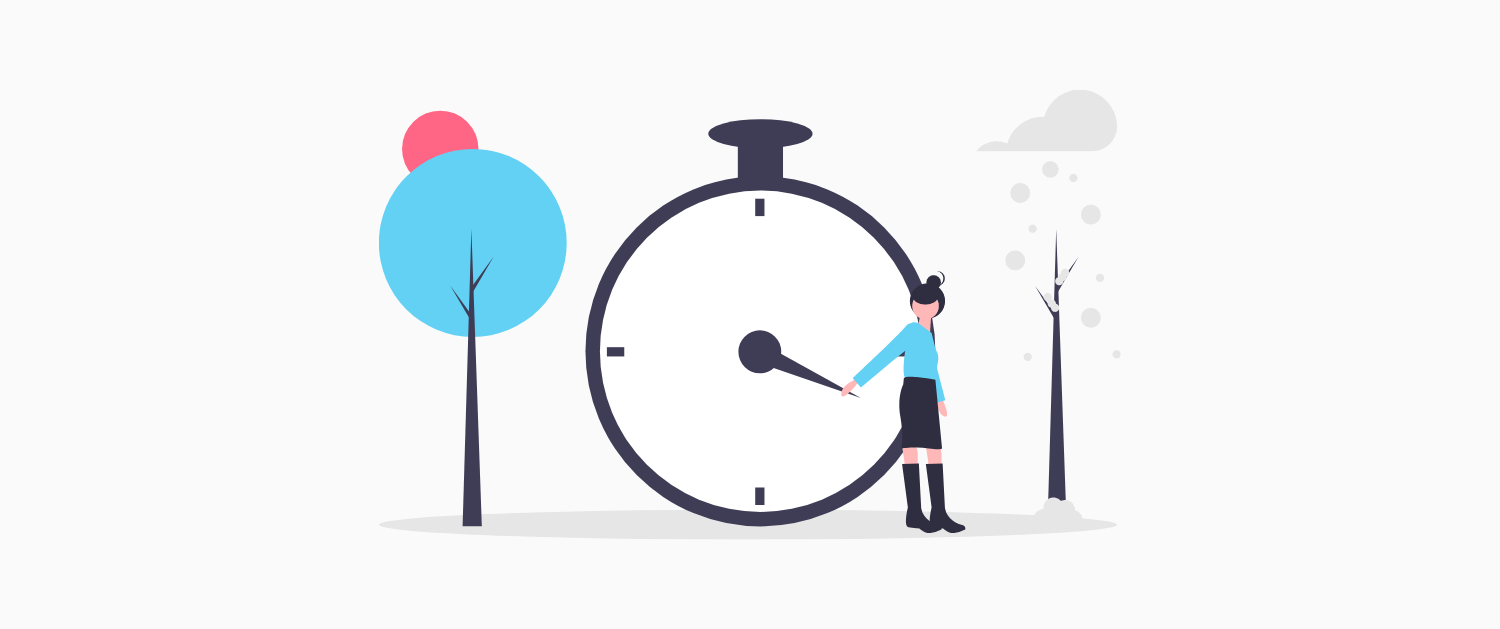 One thing I will say is this.
At Prepineer, we like to see our students give themselves at least 90 days of study before they take their FE Exam.
However, after more than a decade of helping engineers prepare for and pass the FE Exam, we advise that students give themselves 110 to 120 days of FE prep.
This has historically shown to be a much more realistic time frame that has stood up to the various real-world factors of life that come into play as one is studying for the FE Exam.
So whether or not you have a test date scheduled or not, now is the time to get something tentatively on the books.
Talking about the books…
Once you have something in mind, I suggest you get on making it official with the NCEES sooner than later.
Though the exam is given year-round, it doesn't mean all dates are going to be available for you.
The early bird gets the worm in the sense that each local Pearson Vue testing center has a limited number of available slots for the FE Exam.
Get in and make it official as soon as you can.
There will be more benefits that come with actually getting it on the books, here is a post that talks a bit about those:
The benefits of scheduling your FE Exam now, even if you don't know if you will be ready

STEP 3: Put it on a calendar
Now that we have a desired test date for the FE Exam, it's time to lay it out in the context of a calendar and make some adjustments.
Here, we are going to assume that you will begin studying on February 25th.
This is only for illustration purposes.
If you want to start a week from now, a month from now or at any other point, then you will see how you will need to adjust to account for that.
So with that being said, say that you have decided that you would like to take the exam on June 15th of this year.
We need to figure out how many days this is.
You can use an online tool like this one to plug in these two dates and get the total number of days: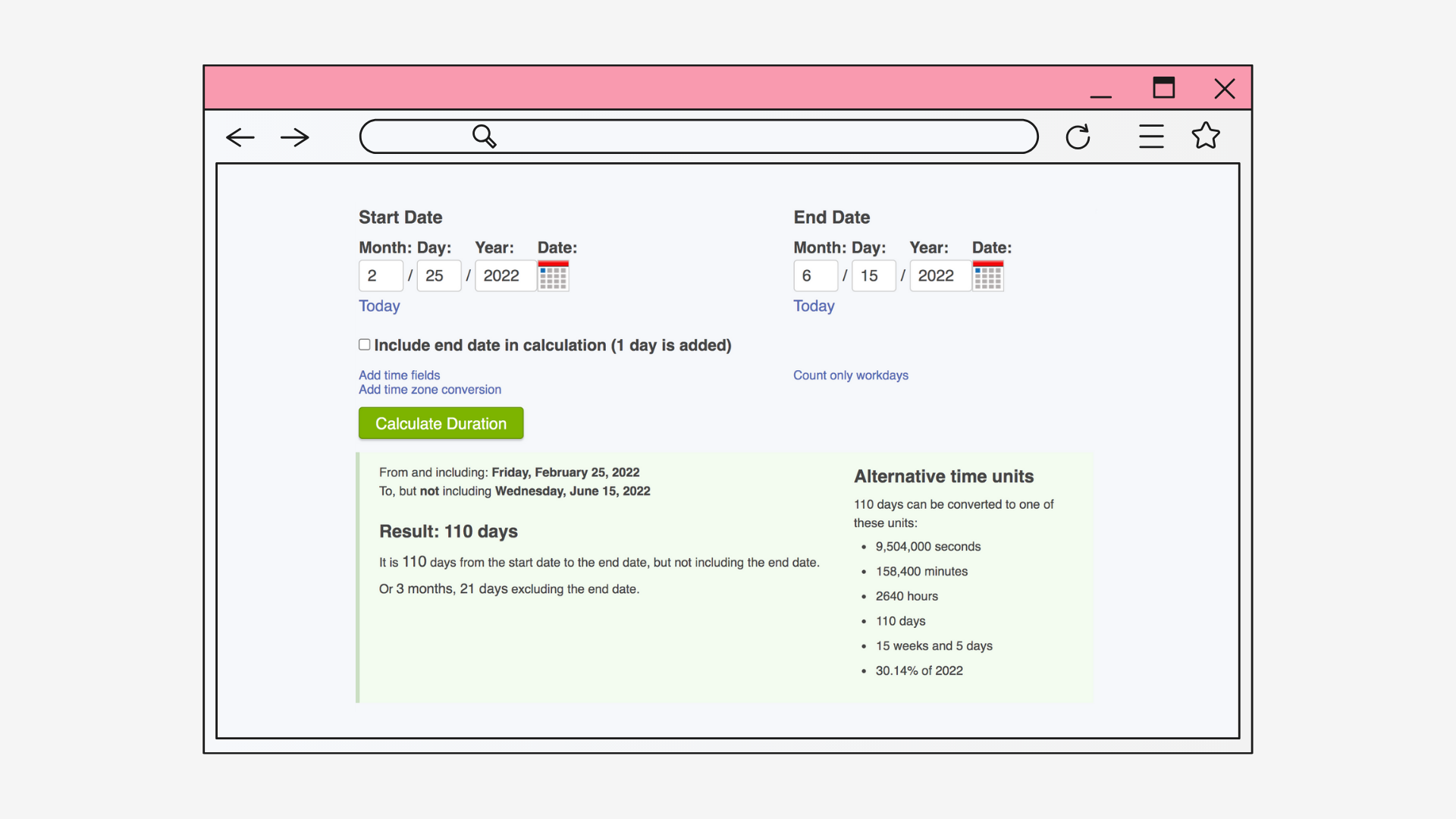 Doing this, we determine that there are 110 days between February 25th and June 15th.
That's great, as mentioned, we at Prepineer like to see students falling somewhere around that 110-120 day mark.
You really don't have that long
Here's the deal, you really don't have 110 days, and honing in on a more realistic number is what this step is all about.
So let's start making some adjustments.
First, you won't be studying on the day of your exam, so we can knock this number down by 1.
We now have 109 days.
If you do things right, you also should not be studying the day prior –
Rest and recovery should be the main focus the day before your FE Exam.
Let's knock this down by one more day – 108 days.
We've got our baseline number of days before our test established, but now is the fun part.
We need to hack away as much as we can to help us establish the most realistic visual of what this journey is going to look like.
If we don't hack, we are just setting ourselves up for failure, so let's do this right.
Making it all visual
Open up an online calendar like Google Calendar, or anything else that has Holidays identified and adjust the view so that you can see everything on a month-to-month basis.
Identify both your start and end date on the calendar.
Now, we have already determined that we won't be studying the day before or the day of our exam, so we will mark these two days as such.
This gives us the 108 days between our start date and exam date to study.
Now we need to identify all the public holidays that will fall between now and our test date.
Between February 25th and June 15th, there are two public holidays, Good Friday and Memorial Day.
There may be more depending on the state you live.
Get those dates identified so that you can account for them in your plan.
Here, you are going to need to decide what you are going to do – take the day off from studying, or ramp up your studies.
For the sake of illustration, we are going to be taking both these days off.
In this case, we hack two more days off our total days of study.
We are now at 106 days.
Between February 25th and June 15th, there are also other observances we may want to account for, those being St. Patrick's Day and Cinco De Mayo.
Both of which, we will mark as days we will be taking off from studying as well.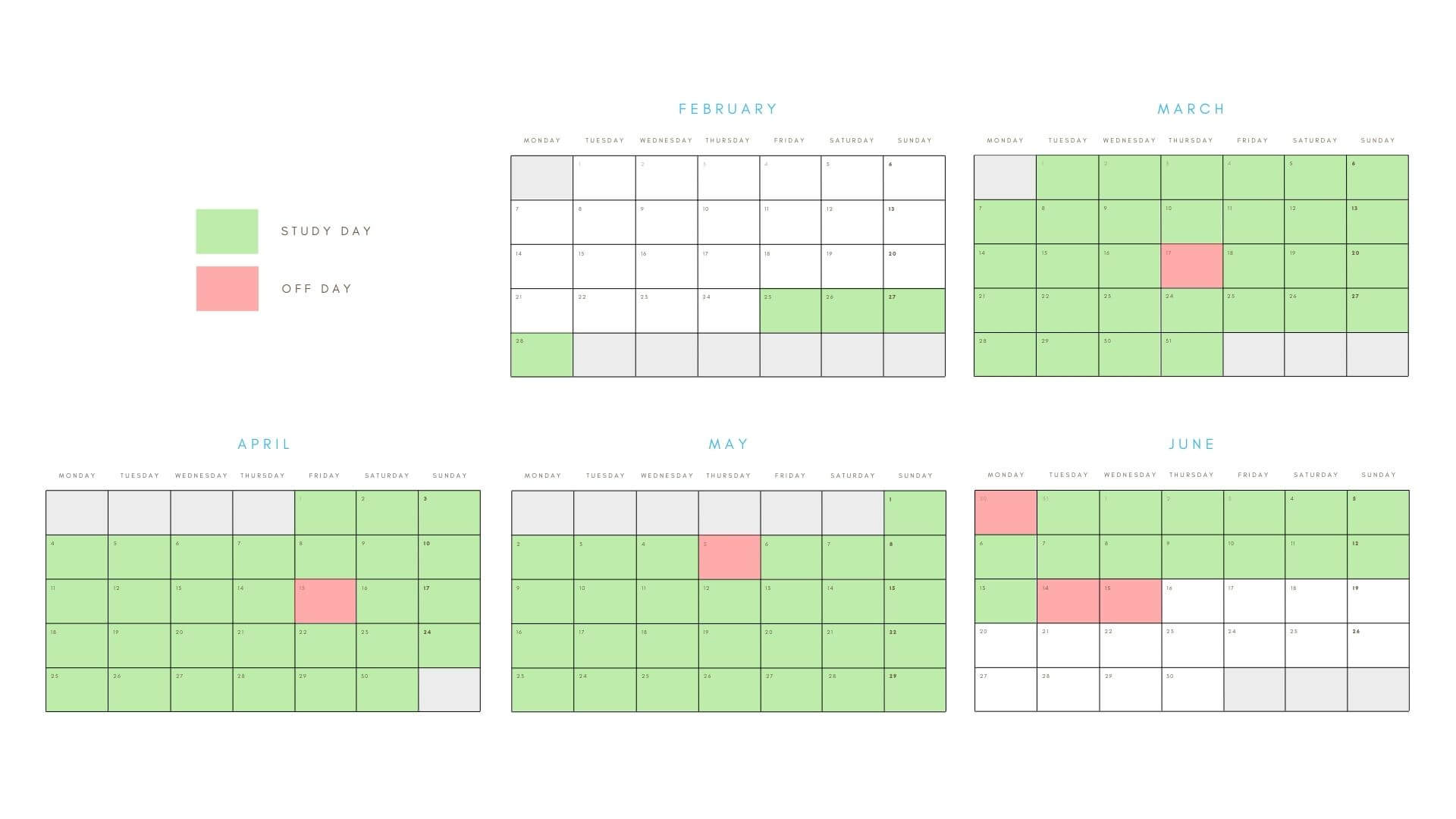 That puts us at 104 days.
Next, with our calendar still in view, we need to identify dates during this period of time where studying will not be possible.
Scanning through each month, we see our daughter's birthday party, a work dinner and a concert have already been slotted into the calendar.
We also realize that the week before memorial day we scheduled a trip away with the family that starts on Thursday.
So all together, this will be another 7 days that we won't have the opportunity to study and we get them marked on the calendar.
Adjusting our number of days to study, we are now at 97 days.
Setting aside personal days
Say that you'd like to keep Sunday as family day free from studying.
Using the calendar, you count that there will be 16 weekends between now and your test date.
One of those weekends you are already taking off, so that makes 15 Saturdays and 15 Sundays to account for.
Adjusting your total number of days to account for not studying on Sundays, you now have 82 days of study before the day of your exam.
Why is this important?
Now, we can continue to adjust this number in as many ways as we'd like so that it fits our lifestyle and desire for balance, but we will stop here at this point as we have done a really good job on dwindling it down.
Most people won't even get anywhere near this point in planning, going in blind and hoping for the best.
Things come up, days are lost and hope that they can actually be prepared dwindles.
Ultimately, they throw in the towel.
This isn't going to be your story, let's get to the next step.
STEP 4: How many hours do you need to put in each day?
With our strengths and weaknesses defined and a good understanding of how many days we have until our desired test date, it's time to figure out what this all looks like on the day-to-day.
How many hours a day is this going to take?
If we can get a grasp on the effort at this level, we will much more likely find ourselves following through when it's all said and done.
You see, most people fail to see their big dreams through because going after big dreams is, well, hard.
Maybe not physically, but certainly mentally.
Somewhere along the way, and maybe often, there are going to be obstacles that will throw us off our game.
In breaking things down to a daily output for studying, we can see right up front how doable the journey is going to be in the context of life today.
It makes it much more tangible.
Not planning at this level leaves too much up to chance.
Chance creates uncertainty.
And uncertainty in the midst of obstacles equals challenges that will mentally wear us down over time.
So let's set ourselves proper.
Before, know this…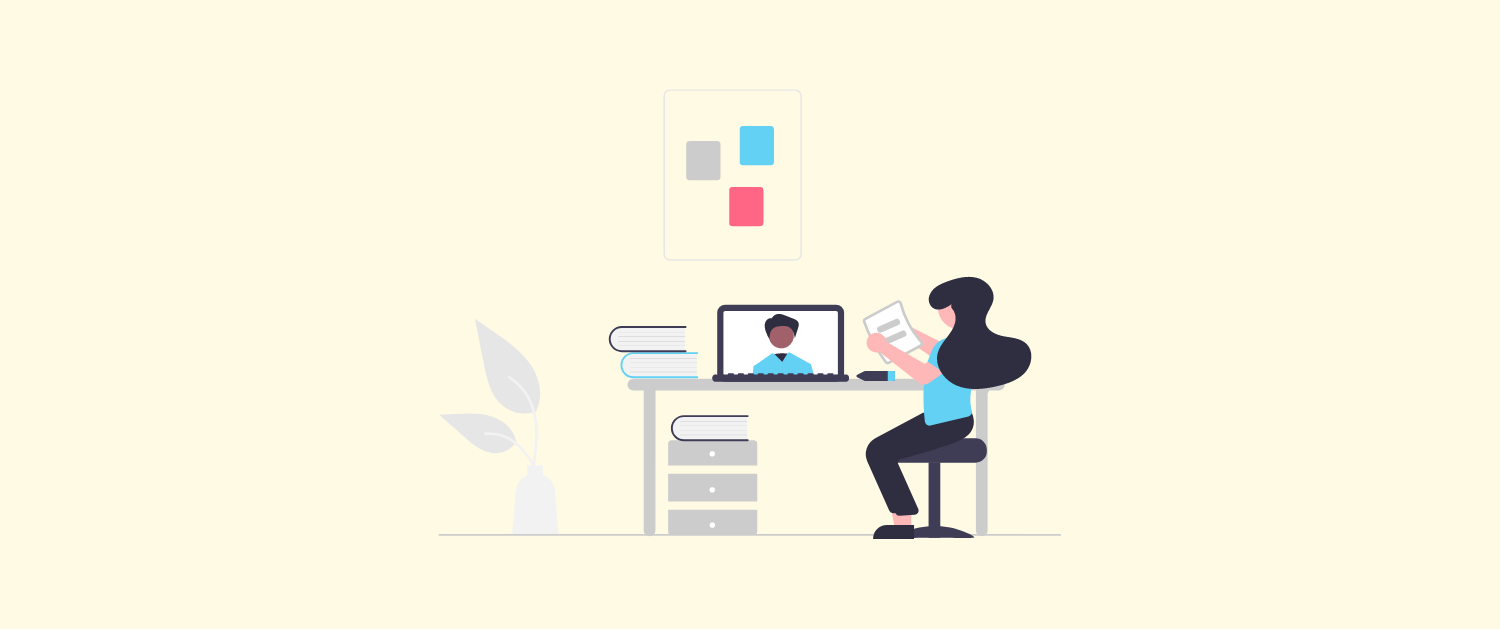 For well over a decade, we've helped tens of thousands of engineers prepare for and pass the FE Exam.
Over that time, we've guided students at all stages of life.
We've helped graduating seniors.
We've helped young professionals.
We've helped engineers with growing families.
We've helped retirees just looking to fulfill a lifelong goal of becoming a Professional Engineer.
We've helped them all.
But, despite our deep experience across the board, determining how many hours any student should be putting in each day is one of the hardest things to do for a coach.
So instead of establishing a static unit, take the results from this effort and adjust them as you see them playing out in real-time.
And one thing I will say is this.
One hour of study today, early in the journey, is going to look much different than one hour a month from now – and even more different two months from now.
This is because much of the time we use at the start will be riddled with the obstacles of just getting back into the mode of academia.
We are going to be building a whole new routine, a new cadence, and there will be some major growing pains in doing so.
Rusty is going to be a thing.
But through consistent action, the cobwebs will begin to clear and your cadence will pick up.
So know this.
How many total hours will you study for the FE Exam?
Now regardless of the stage you are in, we have seen that most students will spend somewhere around 150-350 hours preparing for the FE Exam.
This is a point where you are going to have to make a call as your starting point.
Those who fall at the bottom of this range are either still in college or had recently taken the exam.
So naturally, they won't need as much study time as one who is getting after this for the first time, or after a long while.
Another thing to consider is your ability to focus.
Maybe you are highly efficient when it comes to getting things done.
Maybe you have a process established that you have been using for other goals, and it's been working well.
In this case, maybe you will fall around the 200-hour mark.
But maybe you have been out of college for years and the last time you used any of the fundamentals of engineering coincided with Reagan in office.
If this is the case, maybe you are going to fall at the higher end of this spectrum.
Whatever you feel is a good place to start, start there.
If you have no clue, consider this.
At Prepineer, we suggest you start by taking a conservative approach, assuming that you will be putting in somewhere around 250 hours, or more if you would like.
Establish a starting point and adjust
From here, take that number and divide it by the total number of days that we determined from the previous step.
This will result in a flat number of hours per day.
This is our starting point.
We will want to make our first adjustments.
You know more than anyone how your days have been going in regards to responsibilities.
With this starting number in mind, if you know that you will have less time on the weekdays, but more time on the weekend, then make that adjustment now.
For example, say your initial result comes out to studying 4.5 hours a day.
You can ramp that number up for the weekends to say 7 hours and throttle it back for the weekdays, say to 3 hours.
What's important, is that you are maintaining the overall total number of hours of studying for the week as a whole.
As long as the total number of hours per week are being accomplished, you will remain on track.
Avoid this…
One more thing of note here is this.
Although it is an option to cram all your studying into a weekend, from experience, this is not a good approach.
It's much more important that you are consistently putting in time on the daily – at least 30 minutes.
The reason for this is the journey of prep for the FE Exam is much more than just studying material.
It's about making efficient and effective progress.
Having a good routine and establishing a cadence will be the thing that will carry you through to better and more efficient study sessions.
Going multiple days between studying has shown to lead to one consistently feeling overwhelmed, unproductive and overall, lost.
None of this is any good.
Don't let that become a thing for you.
STEP 5: Make a final rough adjustment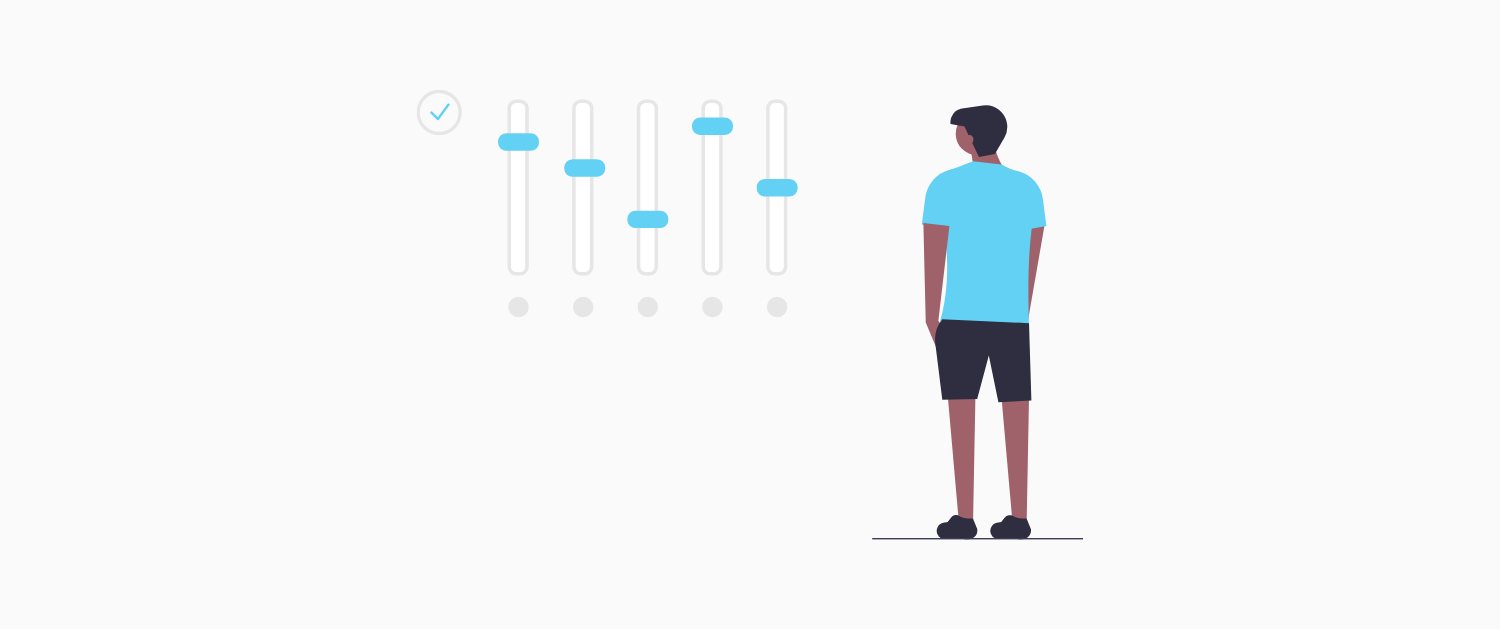 We are now clear on what it will take daily to make this dream a reality.
But let's be real, this is just a starting point.
Think of this number as the initial input into your GPS without any context as to what the traffic currently looks like.
Or the construction going on.
Once we get on the road, we will experience what is really going on and make adjustments so that we can get to where we need to be on time.
But we can still make a rough adjustment right now to those things that we do know and haven't accounted for.
Assess now (and continuously)
Though I would never recommend you decrease the amount of time you are studying overall, sometimes it does make sense.
Maybe you have already been studying, or are coming off a previous attempt at the exam and your foundation is strong.
In this special circumstance, try reducing the number of hours in the first few weeks and see how it all goes.
If things go well, then maybe in week 3, go back to the previous step and reduce the total number of hours that you initially projected and rework the numbers.
On the other hand, if you initially reduce the number of hours you are studying for the first few weeks and are not seeing much progress, then you need to reassess.
In this case, you need to go back to what was originally determined and be real with yourself on those things outside the context of the material.
Ask yourself, how is your routine?
Maybe you aren't going into each study session with a clear picture of what it is you will be doing, and because of that, you are spending a lot of time spinning your wheels for traction.
Maybe it's something else?
Either way, take a step back and assess how you are approaching each session so you can make productive changes.
Deal with distractions – fast
Also, check your focus?
It's easy to get distracted, especially when you are tackling such a major undertaking as studying for the FE Exam.
At this point in life, there are a hundred things we'd rather be doing than studying some pretty heavy engineering subjects.
We've got to control these thoughts of escapism.
I tell all my students that there is no room for iPhones or Netflix when it comes to getting the most out of your blocks of study time.
If you are constantly being sidetracked by anything unrelated to studying, then deal with them quick.
Studying is already hard enough – no need to complicate it anymore with distractions we know are distractions.

Bonus #1: No time to study? Do this…

Now more than ever, we have distractions hitting us from all angles.
These distractions are taking us away from the very things we know we need to be doing to better our own lives both personally and professionally.
Many choose to go about life blindly hoping that everything will fall into place and complain about it when it doesn't.
Keeping a pulse on where you are spending your time ensures that you are always taking accountability for where you are.
In this guide, we walk you through a process we have used for over a decade to help our students who once thought they had no time realize that they actually did have the time after all.
How do you find more time to study for the FE Exam?
We have seen this very process take students from a position of defeat to one of clarity and hope, and we believe it will do the same for you.

Bonus #2: The best way to study for the FE Exam

Working your way through the process of determining how long I should study for the FE Exam is going to open up a whole new reality.
It's going to shine a light on exactly where you should be spending your time so that you can proceed with hyperfocus and confidence.
You can get this done.
But truth is, most won't pursue the FE Exam because they will continue to tell themselves that they can't get it done, for one reason or another.
At Prepineer, we have put together a proven system of coaching and curriculum that has helped even the most challenged individuals pass the FE Exam.
Learn more about how Prepineer is the best way to study for the FE Exam and get started for free.
In Prepineer you will:
Get a real coach who knows how to get you to the finish line, despite your "lack of time".
A custom study plan that breaks down exactly where you should be spending your efforts.
Proven curriculum that has helped even the most challenged find success.
Use Prepineer for 7 days free, with no obligations.

Conclusion on what the FE Exam will take

So how many hours a day should you be studying if you want to take the FE Exam by a specific date?
The real answer is, no one knows.
But the better answer is, we can get pretty close.
In running through this process, we will have a much better understanding of what the landscape ahead looks like.
It will allow us to reveal many landmines upfront so we can put in measures to avoid them.
It will help us understand the real effort and reinforce our confidence that we are doing things right when we do inevitably hit those unforeseen obstacles.
This all means nothing if we can't protect it

Knowing how many hours we should be putting in each day is only as good as we are at protecting that time.
We can adjust as much as we want before we get on the road, but it's going to be the real-time adjustments we make on the fly that will help us make the most of the resources we have up until the day of our FE Exam.
There will always be things outside the material itself, some logistics, that will get itself in the way of you making the progress you want and need to make.
This isn't a time to let pride get in the way.
Identify it, call it for what it is, adjust, and move on.
Benjamin Franklin said, "If you fail to plan, you plan to fail."
Setting aside time to critically think through any major endeavor is of the utmost importance when it comes to seeing it through.
Instead of blindly hoping things will run smoothly, you are identifying those obstacles you are able to upfront.
By exposing them, you are proactively adjusting your trajectory to ensure you are more likely to reach your end goal.
This sets the tone.
It clearly defines the milestones so that you are able to effectively execute towards success on the FE Exam.
This is your time to shine.
We are here to help.