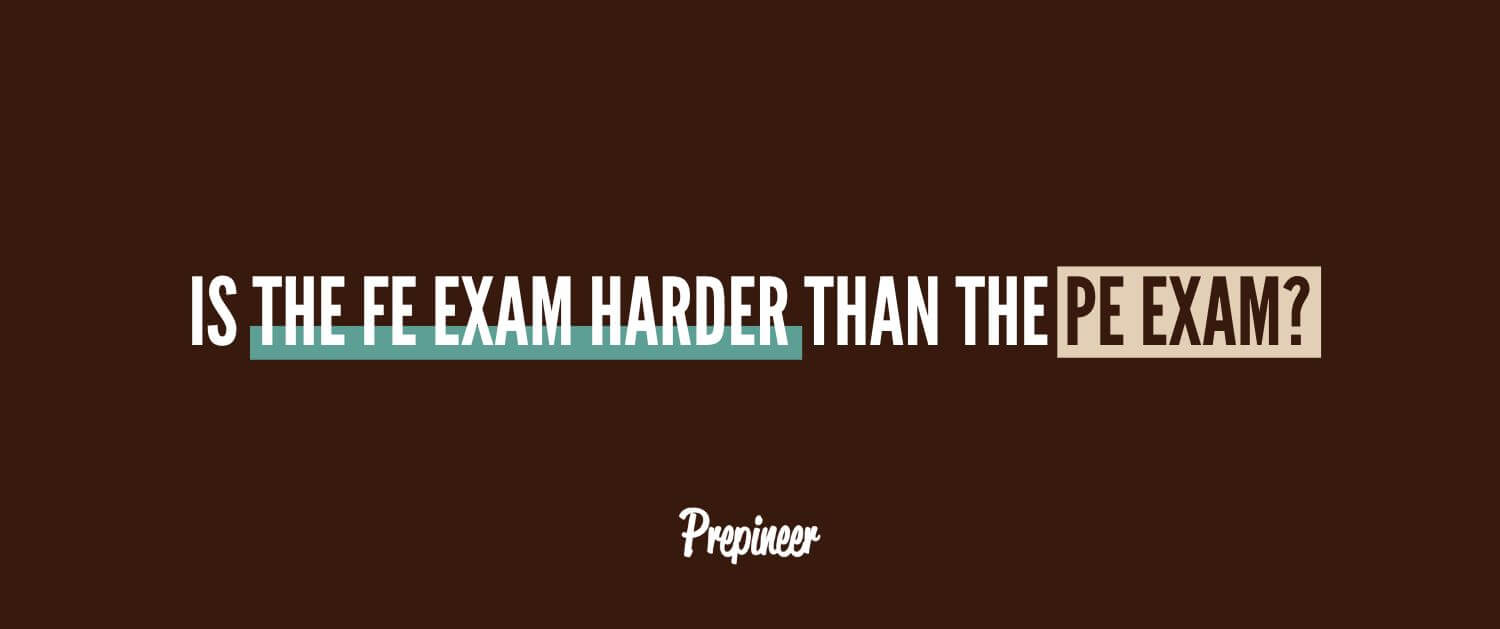 If you are wondering is FE harder than PE, then this entry is for you.
In this resource, we will give you some insight from over a decade of helping engineers like you prepare for and pass the FE Exam.
Engineers who were hitting an onslaught of obstacles in getting past this milestone in their careers.
Engineers who were looking at the FE Exam as a "fundamentals of engineering exam" and wondering why they were having so much trouble getting past it.
After some heavy reflection and personal experience, we have our theories on why this may be and some suggestions on how you can go about getting past it.
Enjoy.
What are the FE and PE Exams?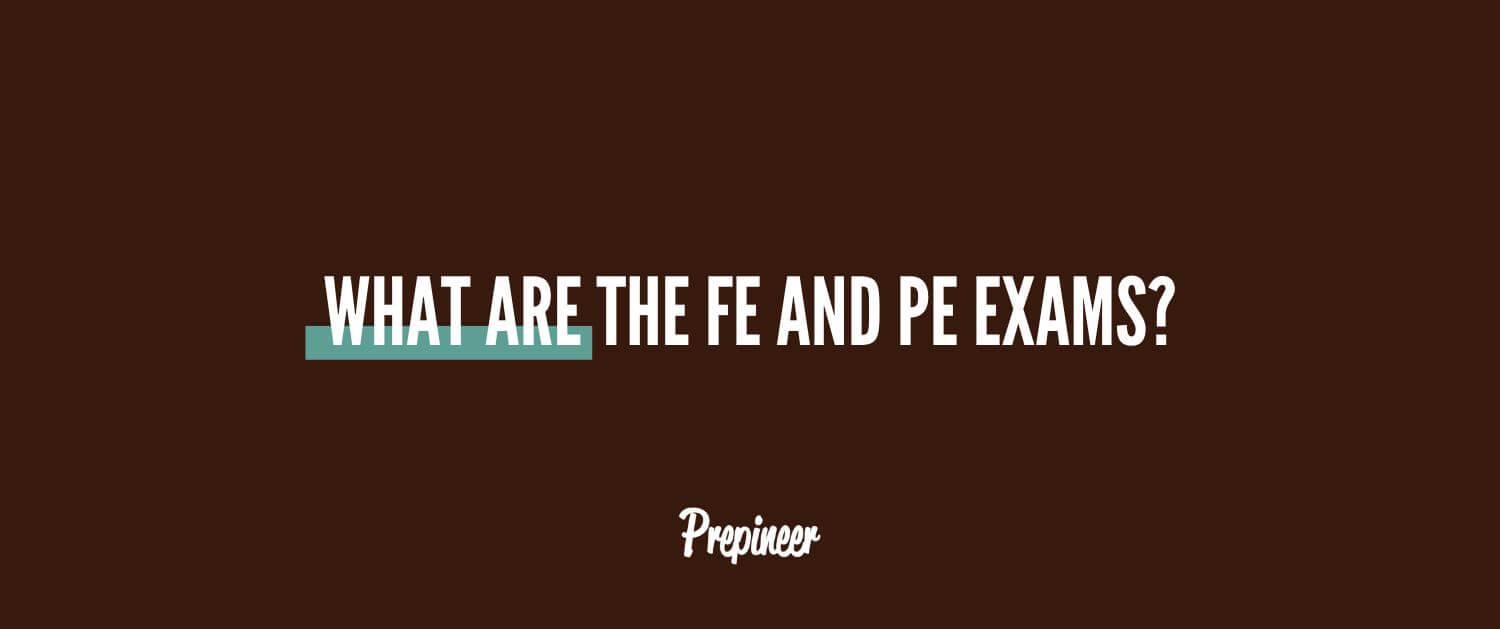 In the United States, engineers are licensed at the state level by Professional Engineering licensing boards governing the practice.
It is the duty, and in the best interest, of each state engineering board to confer the PE license only to individuals who are able to prove competent in the practice of engineering through education, experience and testing.
On the testing front, all individuals wanting to become a licensed Professional Engineer must pass two exams, they are:
The Fundamentals of Engineering Exam (FE Exam)
The Principles and Practice of Engineering Exam (PE Exam)
The FE Exam and PE Exam are standardized tests written and scored by the NCEES and adopted by the state Board of Professional Engineers in each state as a valid means of qualifying the competence of aspiring engineers.
What is the FE Exam?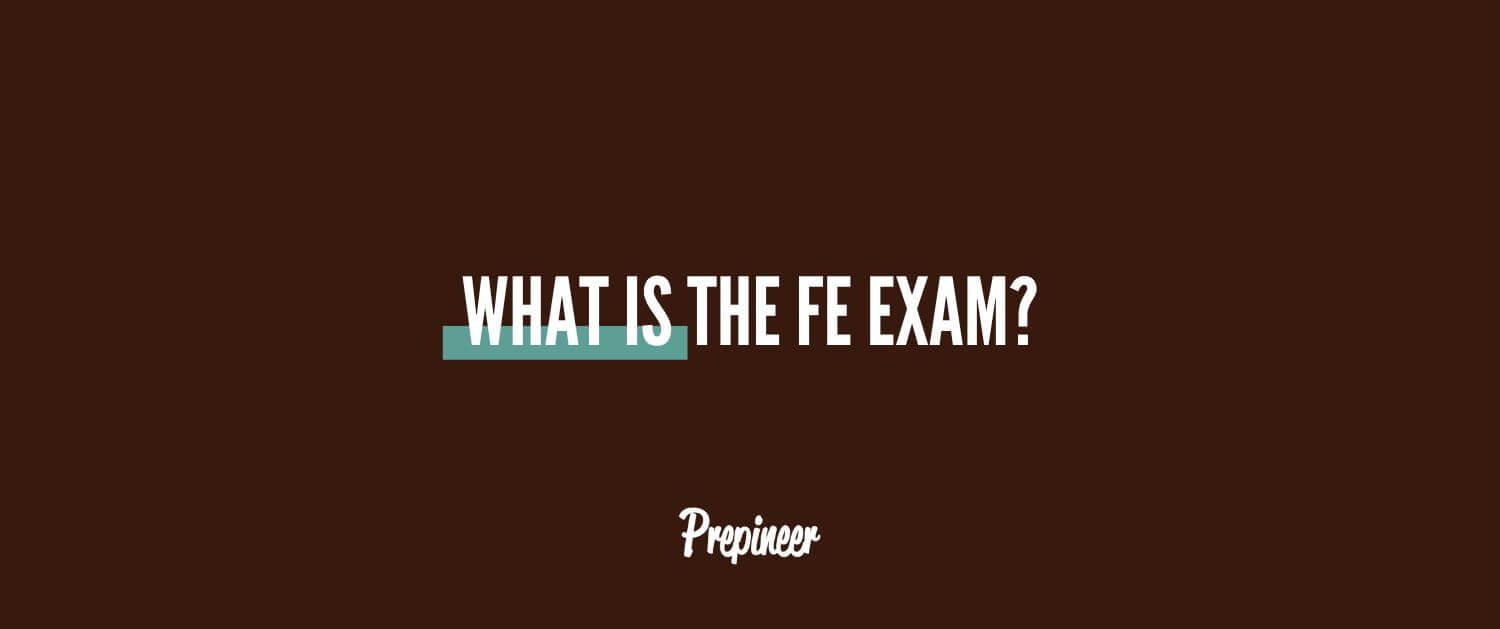 Though there may be additional state-specific exams required, the FE Exam (Fundamentals of Engineering Exam) is one of two exams that any aspiring engineer will take in route to becoming a licensed Professional Engineer.
As mentioned, this standardized exam is administered and scored by the NCEES (National Council of Examiners for Engineering and Surveying).
The FE Exam is 5 hours and 20 minutes long with 110 questions that span a wide range of fundamental engineering concepts.
Each question is specifically developed to confirm the level of competency of the individual in the fundamentals of engineering.
The FE Exam is a computer-based test (CBT) and closed book, though, each examinee is supplied with an NCEES reference handbook containing commonly used formulas and other useful information related to the material that is covered.
You may also hear the FE Exam referred to as the EIT Exam (Engineer In Training Exam) or the EI Exam (Engineering Intern Exam), all of which are the same exam.
Visit this in-depth resource to learn more about the FE Exam.
Is FE harder than PE?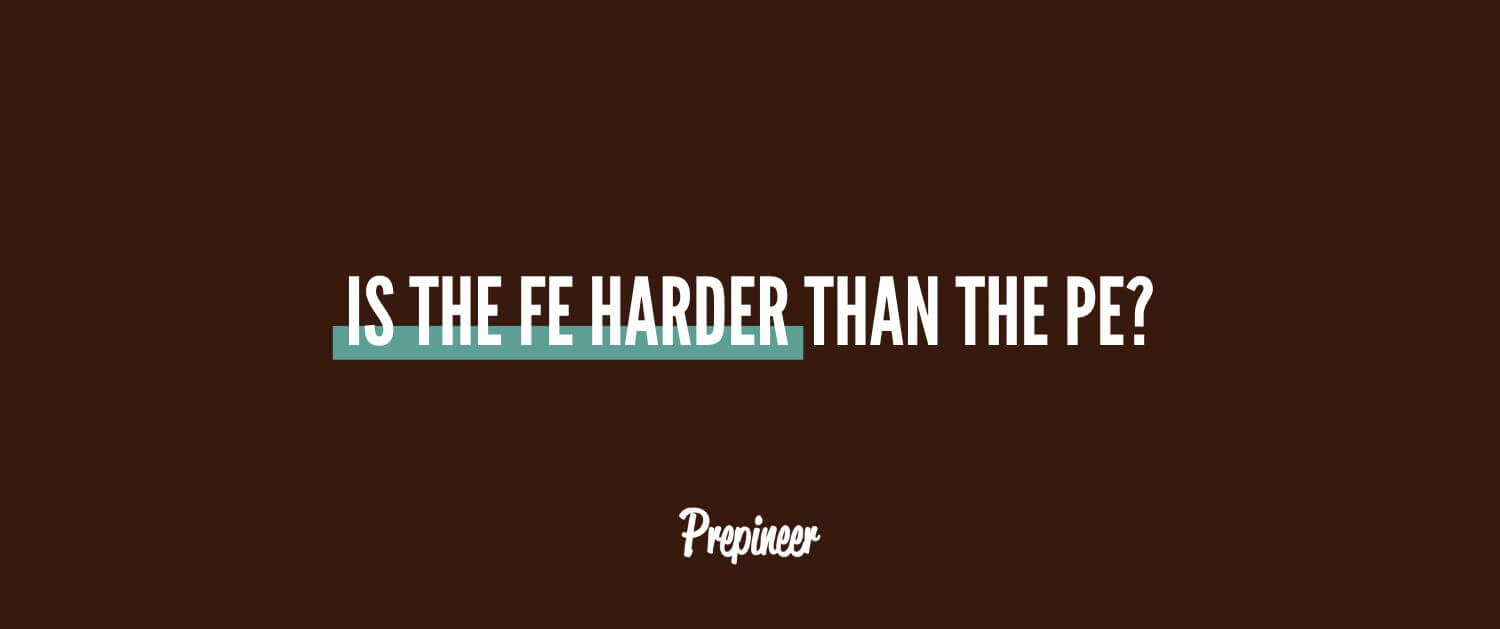 So let's get to this…
Is the FE harder than the PE?
In theory, the FE Exam should be the easier of the two exams you will take.
However, after over a decade of experience working with our students, it tends to be the harder of the two exams.
I thought the same thing from my experience – here is my theory on why this may be.
The goal and very nature of the FE Exam is to validate that you are competent in the "fundamentals of engineering".
From Mathematics and Engineering Economics to Statics and Fluid Mechanics, the FE Exam is designed to span the entirety of our undergraduate coursework, covering a wide range of foundational engineering concepts.
The exam itself is designed with a broad base.
So in theory, if we are taking the FE the first year out of college, then we could be 4 years removed from some of the concepts we are being tested on.
And I can tell you this much, most of our students aren't taking this exam right out of college – so it's far more than 4 years removed.
And this takes me to my next theory on why the FE Exam tends to be harder than the PE Exam.
If we are to be honest, once we graduate and start our careers, we are not applying those fundamental concepts at any meaningful level in the field.
That's just real talk.
Just as muscle atrophies when we don't use it, so does our ability to perform these "out of practice" concepts.
They don't completely go away, but they do need to be built back up in the same way as our fitness after a long period away from the gym.
We know this intuitively, but because most view the FE Exam as the "fundamentals exam", we underestimate the material that is going to be on it.
We approach it overconfidently and don't give it the respect it deserves, and because of this, we fail.
The reality of the "atrophy" only intensifies over time.
I advise all my students to take the exam as soon as they can to avoid the nature of this knowledge deterioration.
Taking the exam 1 year out is much different than taking it 2 years out – much different than taking it 5 years out – much different than taking it 10 years out.
To exacerbate this knowledge deterioration, as the years go by, your individual responsibilities increase over that same time period.
You likely don't have a family 1 year out of college, but you may get married 2 years out.
And then family comes, and those dynamics only increase 5 years, 10 years – 15 years out.
We as engineers don't tend to account for these variables of FE Exam prep.
Now, I will add one last theory of why the FE Exam is harder than the PE Exam –
It's meant to "weed out".
We all can look back to our undergraduate engineering programs and know exactly where we experienced the "weed out" classes – those classes designed to push us to our limits and make us decide really whether or not we wanted to be engineers.
These classes ensured that only the best continued to go down the path of becoming engineers.
They acted almost like a quality control measure.
I obviously can't confirm this, but it would make sense that in the same way, the FE Exam weeds out those that don't want to put in the work necessary to become legitimate engineers.
This makes sense, since generally speaking, the Professional Engineer boards in each state have a mission to safeguard public health, safety and welfare of the people in their state.
With this, the licensing process is the last line of defense they can deploy to ensure that those that they are licensing to practice engineering in their state are vetted at the most stringent levels.
Again, a quality control measure.
And these are my theories on why so many are experiencing an FE Exam that is harder than the PE Exam.
Final thoughts: Is FE harder than PE?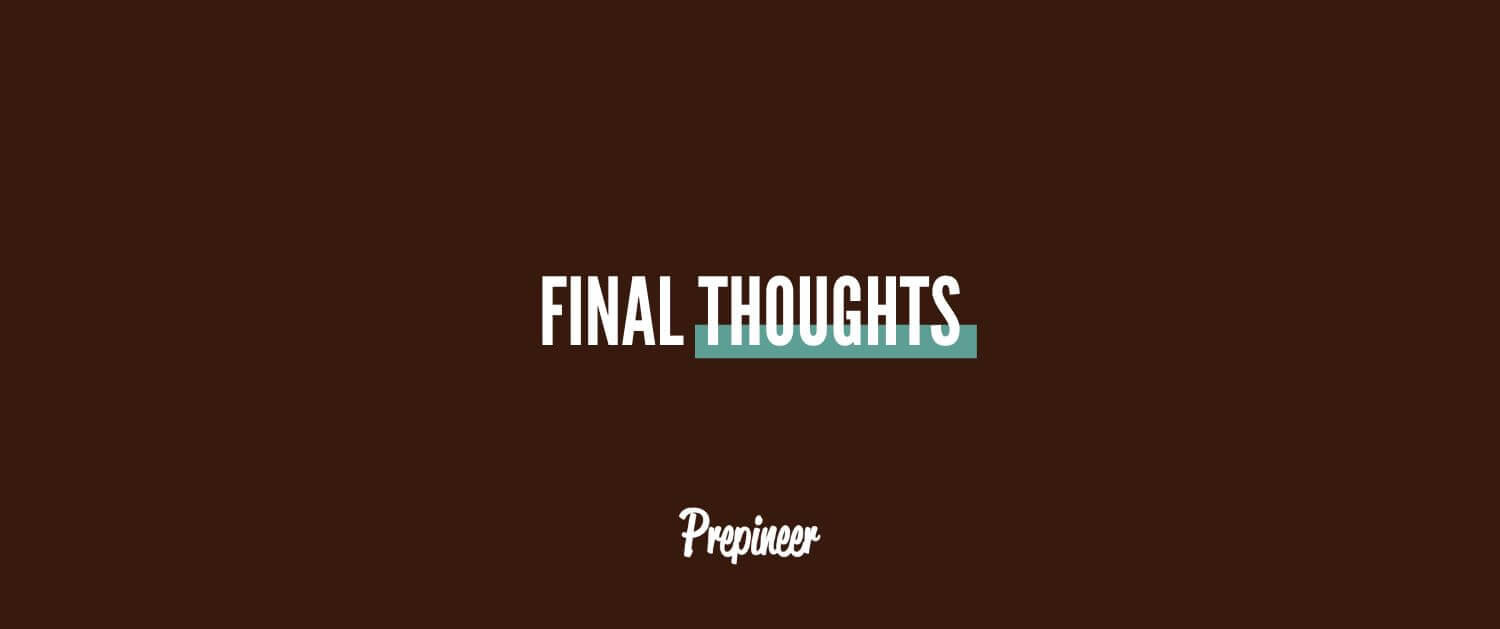 I hope that I laid out a strong theoretical case for why the FE tends to be harder than the PE.
Because it should be evident by now –
Successfully preparing for and passing the FE Exam is more than just sitting down and opening up a book.
We can't afford to wing it – this isn't a cram-by-night and get-it-done type of journey.
This isn't written to scare anyone away from pursuing their goal of becoming a licensed professional engineer.
It's more to set the expectations and give over a decade of experience of what works after being on both sides of the coin myself.
At Prepineer, we believe that personal coaching, mentoring and accountability aren't just some good things to have in place –
They are must-haves.
They normalize the struggles, the doubts and the uncertainties, giving us clear direction and energy to sustain through them all.
If you have been struggling to get past the FE Exam, I pray that this entry gives you hope to stand back up, brush yourself off and get back at it.
We are help you do just that.
Click here to see how personal coaching can help you make the dream of becoming a PE a reality.