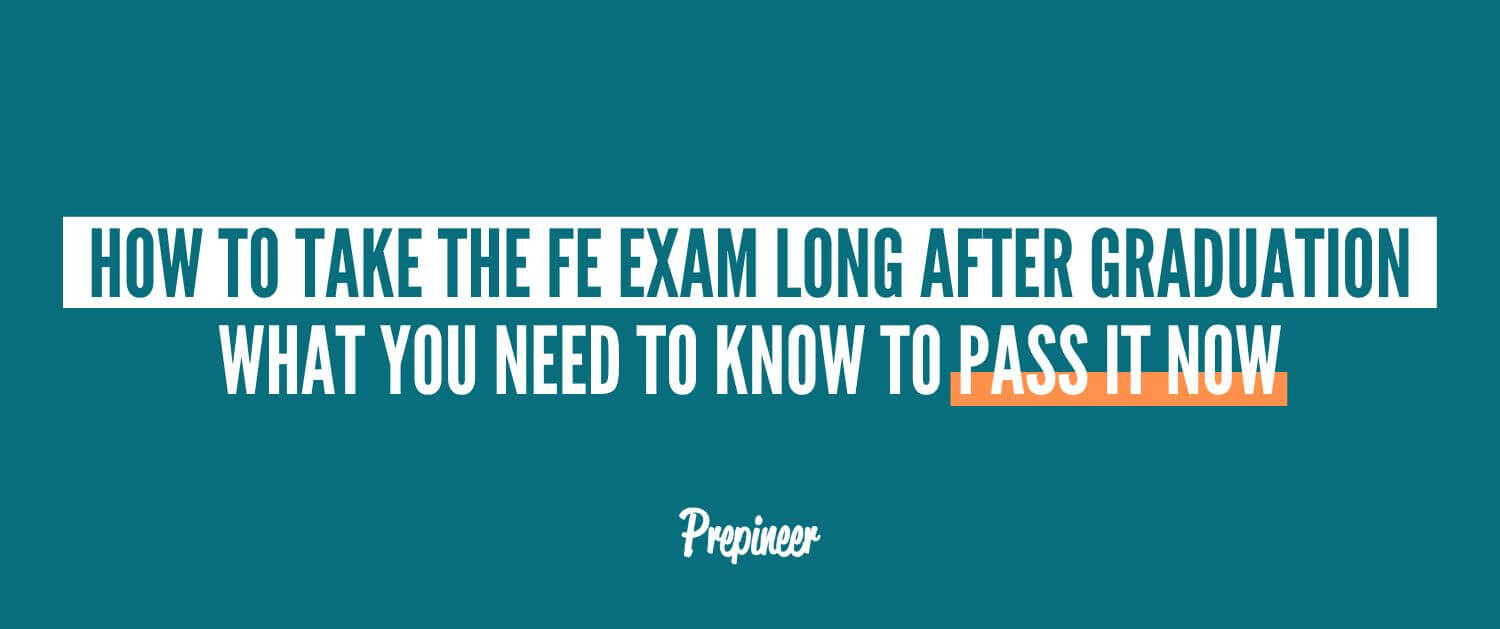 You have graduated and are now wondering how to take the FE Exam after being away from the material for such a long time?
Well, let's start with this…
I know there are many paths that may have brought you back to the point of needing to pass this exam.
But, regardless of what that path has looked like, the reality is, you need to find a way to get your PE License.
And it's the FE Exam that is standing tall between you and achieving that reality in your own life – and it seems like a monumental task.
Beginning the journey towards becoming a Registered Professional Engineer after being out of school for a bit spawns questions that can derail any substantial effort.
The point of this guide is to give you an openly accessible, digestible source of information to help you understand how to take the FE Exam and help you finally commit to doing it.
Is the FE Exam designed for a recent graduate?
How hard is it?
How should I study?
In this guide, we get into the most critical questions being asked about the FE Exam and specific strategies you can use to simplify the journey and make this milestone a reality for you.
Whether your are coming from a Civil Engineering background or one of Engineering Technology, this guide will get you moving with much more clarity and confidence that a PE license can be a reality for you.
What is the FE Exam?

The FE Exam (Fundamentals of Engineering Exam) is the first of two NCEES exams that any aspiring engineer will take in route to becoming a licensed Professional Engineer.
This standardized NCEES fundamentals examination is adopted by your state's Professional Engineering Board as a valid means of ensuring those wanting to practice engineering are competent to practice.
This video gives a solid overview of the engineering licensure process and how the FE Exam fits in to it:
The FE is given as a CBT exam (Computer Based Exam), is 5 hours and 20 minutes in length with 110 questions spanning a broad range of foundational engineering concepts.
Each question is developed to confirm the level of competency of the examinees in the fundamentals of engineering.
As a CBT Exam, the FE Exam is computer-based and closed book, though, each examinee is granted the use of two tools:
The NCEES FE reference handbook containing commonly used formulas and other useful information related to the material that is covered.
An NCEES-approved calculator, which isn't a graphing calculator, but can be the most powerful, yet underutilized tool used on the FE Exam.
The FE Exam has 7 different exam specifications (FE Electrical Exam, FE Mechanical Exam, etc) that one can choose from.
At Prepineer, we encourage you to consider taking the FE Other Disciplines exam for a number of reasons regardless of your research area or undergraduate engineering degree.
You can be learned about this strategy here:
FE Other Disciplines exam strategy
Regardless of which exam specification. you take, all will lead to the same ends – becoming an Engineer Intern (or Engineering Intern) in your respective state.
Can anyone take the FE exam?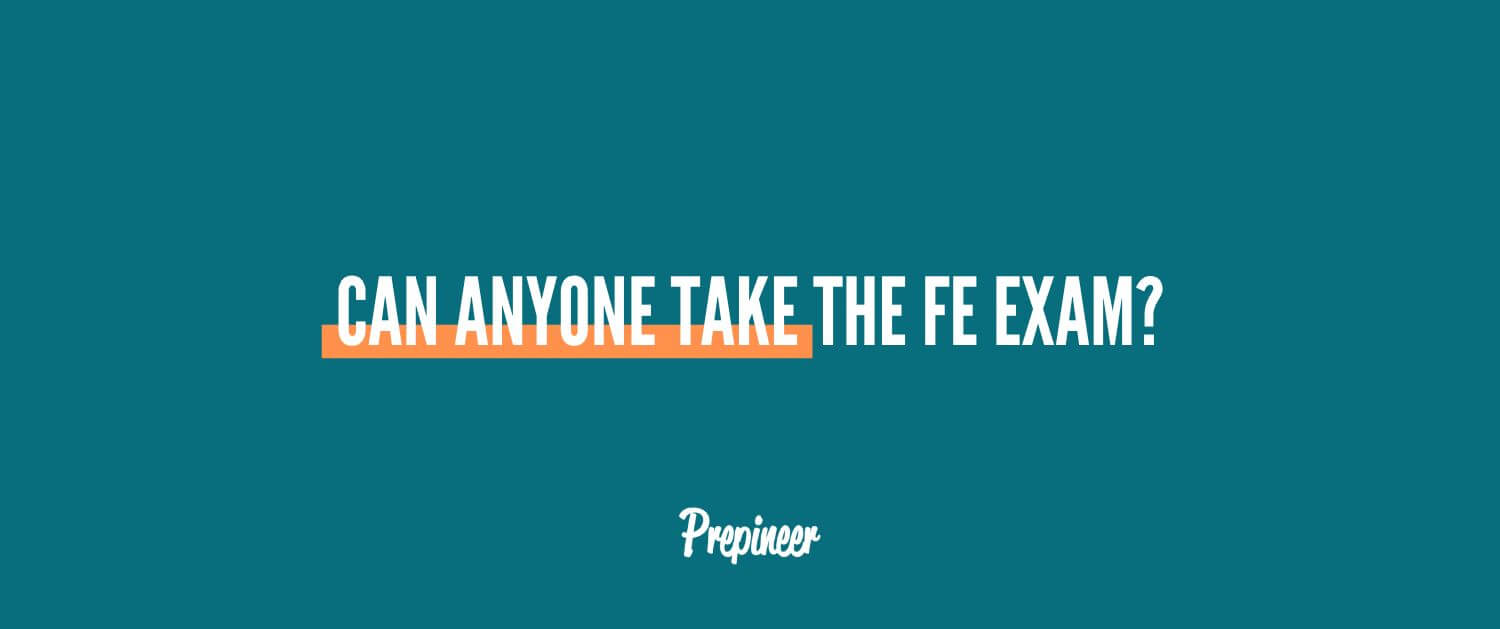 The short answer is no – but maybe, hear me out.
Eligibility requirements are not set uniformly across the board by the NCEES, but rather, by each engineering state licensing Board.
With this being stated, when someone is deemed eligible to take the Mechanical Engineering exam in Tennessee may differ from when one is deemed eligible to take the same NCEES fundamentals exam in Texas.
You can review your specific state licensing board eligibility FE Exam requirements here, but please note, they do often change so it is best to double-check directly with your state licensing board of Professional Engineers website to confirm the latest statutes.
In most cases, however, those who are at a minimum in the final year of an ABET (Accreditation Board for Engineering and Technology) accredited engineering program (or graduated from) are eligible to take the FE Exam.
But what if you don't have an ABET-accredited degree?
What if you don't have a degree at all?
Or your degree is from a university outside the states?
Is there any way that you can still gain eligibility for PE licensure?
This is where the maybe comes into play.
Now the actual path to eligibility in these cases will be unique to the situation, which again, I will refer you to this page to hone in on the specifics for your particular state licensing board.
However, there are often multiple paths to eligibility for the FE Exam (and professional licensure) defined by each state.
The ABET-accredited degree is the creme de la creme when it comes to gaining eligibility for this NCEES exam, but it's not the only route.
Let's take Alabama as an example, they have established a nice flowchart outlining the various paths to eligibility: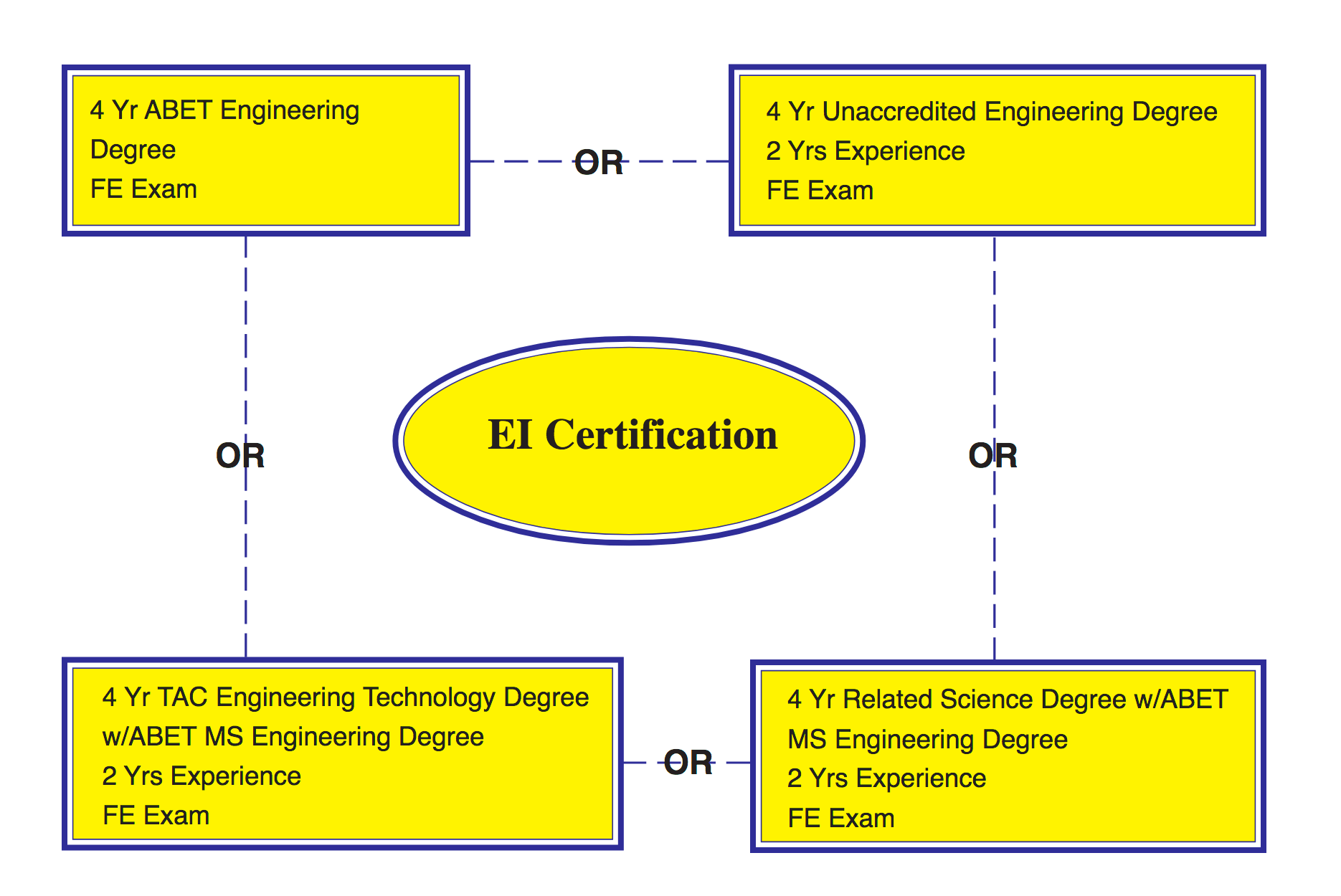 As you can see, everything starts from an ABET-accredited undergraduate engineering degree and adds on from there.
If one has an unaccredited, TAC or unrelated science degree (plus an ABET MS in the latter scenarios), then an additional 2 years of progressive engineering experience would be required.
Jumping over to Texas as another example of how each state defines unique minimum eligibility requirements, section 133.65 [EXAMINATION ON THE FUNDAMENTALS OF ENGINEERING] in the TBPELS Acts and Rules states the following:

In Texas, all EAC/ABET, ETAC/ABET, engineering related and non-engineering related programs can lead one to eligibility, albeit, with those last two scenarios having some additional verification requirements attached (ie engineering work experience, research area, etc).
So can anyone take the FE exam?
No and maybe.
There are states that provide eligibility scenarios for individuals without an engineering degree but a number of years of progressive engineering experience.
Again, you can reference our resource for exam registration eligibility paths for your state here:
Can I pass FE without engineering degree?

As we have discussed, each state licensing board defines eligibility requirements for professional licensure that are unique to their jurisdiction.
With this being said, some states require that you have an engineering degree (or some engineering curriculum background), while others provide a means to take the exam based solely on your "progressive engineering experience".
To be clear on what the requirements are in your state start here:
But the question at hand is whether or not you can pass the FE without an undergraduate engineering degree and move on to becoming an engineer intern, and ultimately, a licensed Professional Engineer.
Absolutely.
You may or may not believe that it's possible for yourself, but let me tell you this –
We have been helping engineers for over a decade prepare for and pass the FE Exam and move to gain professional licensure.
And a subset of those individuals we have helped are those that didn't have a formal education in engineering.
They came in with heavy doubts, but a strong desire to put in the work to get the exam result that seemed so far away.
And you can do the same.
I always believe that the best thing we can do when we doubt whether or not we can do something, is to seek out examples of people in our same position who went out and got the exam result they wanted anyways.
If we are able to find at least 1 person that has done it, then it is possible and we can do the same.
Take a stroll through our Prepineer success stories to find that example for yourself.
How much does it cost to take the FE exam?

Most states have adopted the automatic model for approval and do not require that an individual submit an application or additional fee to the board prior to taking the FE Exam.
If you are taking this computer based exam in one of the states that adopt this model, then you can register directly with the NCEES to take the FE Exam.
The current cost to take the FE Exam is $175 and can be paid directly to the NCEES at the time of registering.
The whole exam registration process can be started through your myNCEES account here.
Now, if you do not live in a state that adopts the automatic model for approval, then you must first submit an application to the board for Professional Engineers in your state and gain approval prior to exam registration with the NCEES.
The application fees vary by state and have been seen to be anywhere from zero to upwards of $50+- you can reference the latest application fee for your state here.
So these are the baseline costs for taking the exam, however, there may be additional costs incurred if you:
Are not a graduate of an ABET Accredited engineering program
Hold a Foreign Degree
Have a degree from a program that does not by default meet the eligibility requirements defined by the Board of Professional Engineers in your state
If you fall into one of these categories, then you may be required to get your degree evaluated through NCEES Credentials Evaluations (or other acceptable entity).
The current cost to have your degree evaluated through the NCEES is $350 and will be paid at the end of the application process.
If you decide to cancel the evaluation and request a refund, then a $50 administrative fee will be assessed.
The NCEES will not grant refunds for applications submitted more than one year prior to the refund request.
You can learn more about getting your engineering curriculum evaluated by the NCEES here.
So how much the FE Exam will cost really depends on the state that you live.
To get the latest cost information, along with your state licensing Board of Professional Engineers specific requirements, click on your state below:
When is the FE Exam offered?

At one point in time, this NCEES exam was offered twice a year – April and October.
This is no longer the case.
Now that it is a computer based exam, it's offered year-round at a local Pearson-Vue testing center in four different testing periods.
The testing periods are:
January – March
April – June
July – September
October – December
Though it would never be ideal, examinees are allowed to take the FE Exam once per testing period, but not more than 3 times in a 12-month period from the date of the first attempt.
One other thing worth mentioning here is this.
Say that you do need to take the exam all three times over the course of the 12 months to get the exam result that you are after – you don't need to stick to a single research area or engineering work background.
For example, say that your background is in Mechanical Engineering and you chose to take the FE Other Disciplines exam on your first attempt and failed.
If you wanted, you could take the FE Industrial, or the FE Electrical for that matter, on the next attempt.
The point is, successful FE Exam results is what you are after and at the end of the day, it all leads to the same end, EIT Certification and ultimately PE Licensure.
The only point of the FE Exam is to validate that you are competent in the fundamentals of engineering, that's it.
When you do get your EIT Certification after passing, it will say nothing about what exam specifications you took, only that your FE Exam results has shown that you are competent and able to move to the next step towards PE Licensure.
How hard is the FE Exam?

Wondering how hard the FE Exam will be is one of the first thoughts that comes to most people's minds when they first consider taking it.
Especially if you have been out of college and engineering curriculum for any period of time.
However, as we would admit to anyone asking this question, we would be blowing smoke if we claimed that we could objectively answer this for you.
The difficulty of the FE Exam differs for everyone based on so many uniquely personal factors.
Some (but not all) of these factors include:
What is your education background?
How long have been out of school?
What are your current responsibilities? (family, work, etc)
Have taken the exam before?
When do you want to take the exam?
How much time do you have for studying?
Is the engineering work you are doing now utilize any of the NCEES fundamentals?
How do you tyically perform on timed exams?
So how hard is the FE Exam going to be for you?
I couldn't tell you.
But what I can tell you is this.
If you relate to any of these scenarios:
Failed the exam 5-6+ times.
Failed so many times that you have given up on the profession altogether.
Have been out of college for over 35+ years.
Then we can help you prepare for and pass the FE Exam, because these are actual stories of past students.
You can read more of these Prepineer success stories here.
But the point isn't to applaud the study materials within our program, it's to illustrate that it doesn't matter how "hard" you think it's going to be, it's establishing where your current level of commitment in getting it done is.
We have seen it time and time again, that's it's not a matter of knowledge, it's a matter of will – that's what will ultimately get you past the FE Exam.
So with all that being said, let me lay out some general statistics.
There is not a single state that releases individual statistics for how many individuals are passing or failing the FE Exam in any given period of time.
However, the NCEES keeps a tally of these statistics for a single testing period for the population as a whole.
Currently, the FE Exam pass rate ranges from 35% to 83% depending on the exam specifications (FE Civil, FE Industrial, FE Electrical, etc) they choose to take.
This is a wide range, and honestly, can't really be relied on for a number of reasons.
These statistics account only for:
Those who took the FE exam for the first time.
Those who attended an EAC/ABET-accredited engineering program.
Those who are a recent graduate and took the FE exam within 12 months of graduation.
I can tell you this much –
Of 100 students that come into our program at Prepineer, 95% fall outside one (or more) of these criteria.
The moral of the story, these stats reflect a population of individuals who meet the ideal testing characteristics of a candidate, not the mean characteristics as a whole.
Use them with a grain of salt.
So just know, again, that this exam is designed to ensure that those pursuing engineering licensure are qualified and able to maintain high standards as practicing engineers.
It has to be challenging, just like our weed-out classes in college.
But knowing that, and expecting that, should give you a leg up when hitting the obstacles that you are sure to hit along the way.
Those that persevere can, and will, conquer the FE Exam and move on to become an Engineering Intern.
So recent graduate or not, it doesn't matter how hard it will be – this is your mission.
Is the FE Exam online?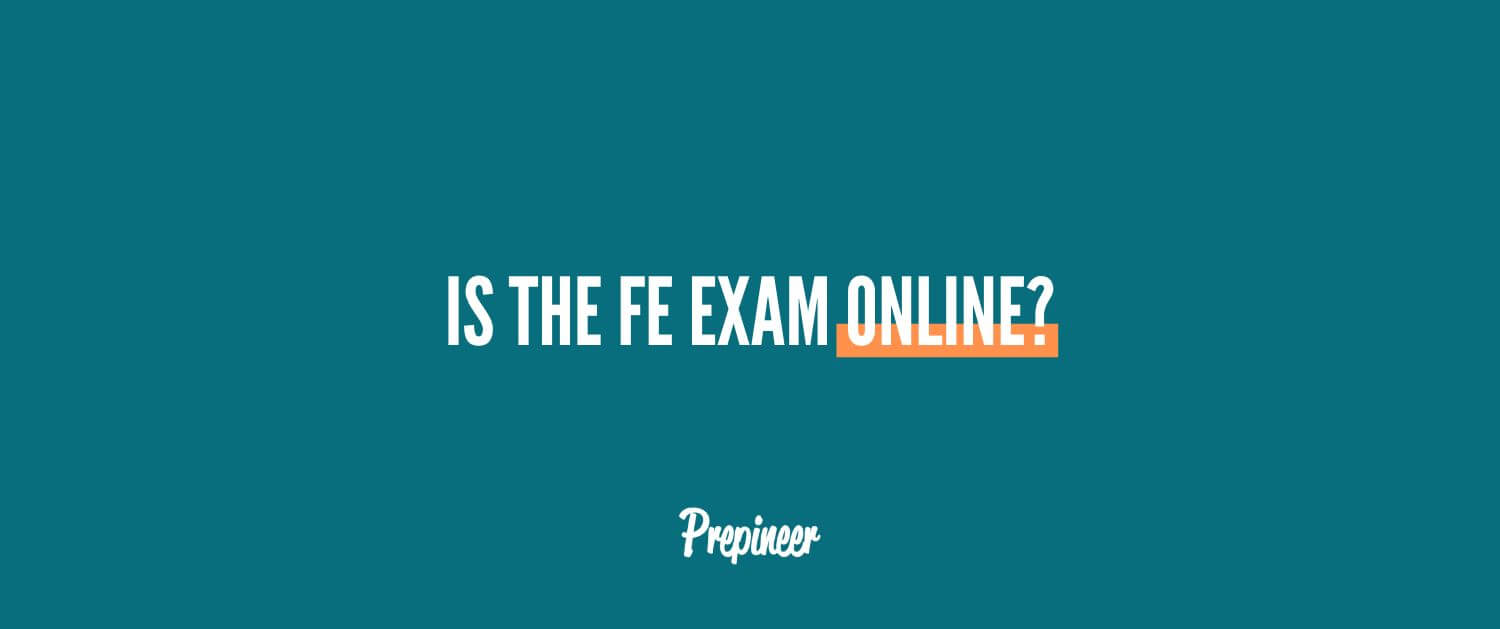 The FE Exam, though computer based, is not online.
It will be administered at a local Pearson Vue testing center in your region.
Once you complete exam registration and are approved by the NCEES to take the FE, you will receive an email giving you the next steps in scheduling your exam appointment.
Through this process, you will be given options for a number of testing centers as well as what dates and times are available at those locations.
You can reference a current list of locations approved by your states Board of Professional Engineers to take the FE Exam here:
It's important to schedule your exam as far in advance as possible for the best scheduling availability.
Each Pearson Vue testing center is limited in capacity, so seats are reserved on a first-come, first-served basis.
Though it's never ideal and highly unlikely that there are open seats, you are able to schedule an appointment with as little as one business day before taking the exam.
Is the FE Exam open book?

The FE Exam is not an open book test.
This means that you won't be able take your FE review manual or any other study materials inside the facility to fall back on when you have a need.
However, there are a few items allowed in with you, they are:
The ID used during the admission process
Calculator (without the cover) that complies with the current NCEES Calculator Policy
Key to your test center locker
Reusable booklet and marker supplied by Pearson VUE
Eyeglasses (without the case)
Light sweater or jacket
Items included in the Pearson VUE Comfort list
For everything else not on this list, you will be assigned a locker that you can use to place unapproved items in while taking your test.
Some testing facilities allow you to set your wristwatch on the table for timekeeping purposes, if they don't, just keep it on your wrist, it is definitely a critical item to have.
Now a few items worth addressing, as they are extremly valuable in this closed book test, are the calculator and the NCEES FE Reference Handbook.
The model of your calculator is extremely important and needs to decided upon early in your FE Exam prep.
If the calculator is not an exact match to those on the approved model list, as defined by the current NCEES Calculator Policy, then you will not be able to use it, and the NCEES will show no mercy.
Though you can't take any study materials in to the FE, you will be granted access to the NCEES FE Reference Handbook which includes common equations, unit conversions, and various engineering tables.
Since this will be the only means of reference that you will have come exam day, it's mighty important that you become familiar with the format and content of the NCEES FE Reference Handbook prior to sitting for the exam.
This will ensure you will be able to quickly and efficiently locate information when you need to.
You can download the latest version of this FE review manual using the instructions found here.
Is FE exam multiple choice?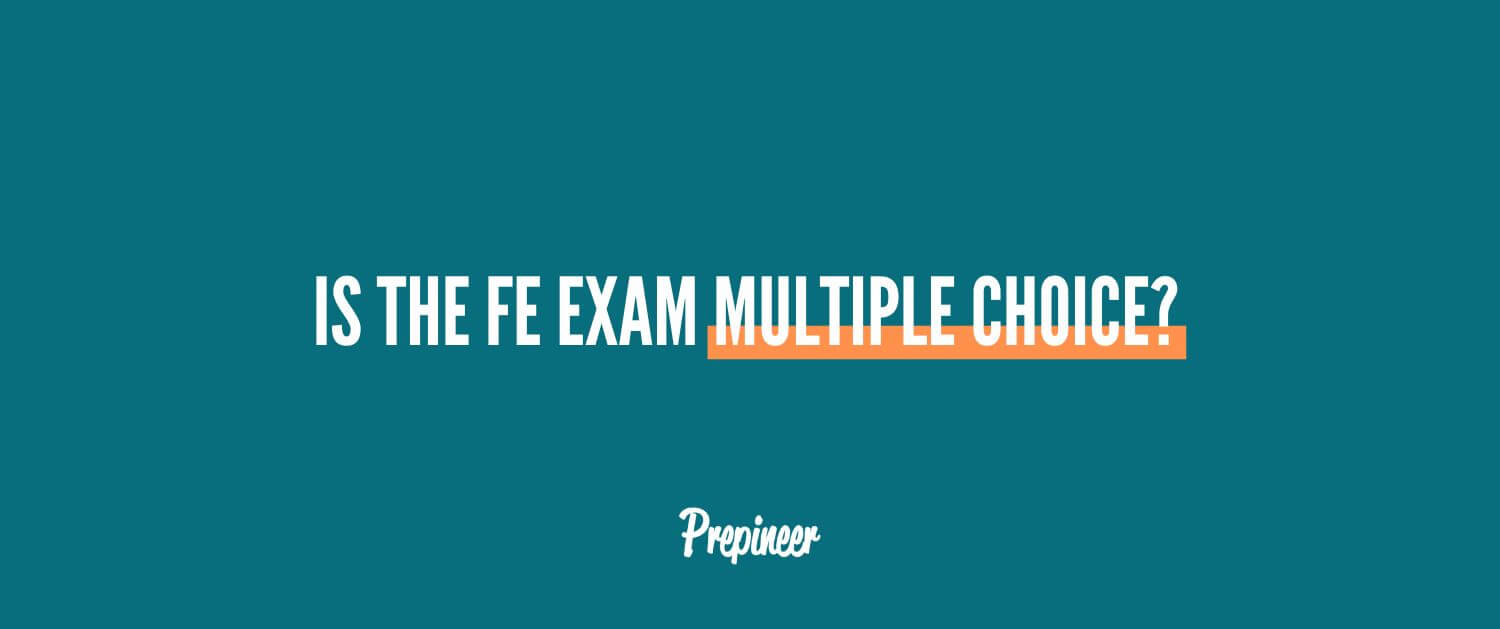 Most all of us were brought up on exams that were comprised mostly of multiple choice problems.
And if you took the FE at any point before 2017, then you may remember an exam that was made up completely of multiple choice problems
This is no longer the case.
With the new computer based exam format, the FE Exam is now 110 problems given in one of two formats:
Traditional multiple choice
Alternative Item Type
We are all familiar with traditional multiple choice problem types, but what are these Alternative Item Type problems all about?
In 2017, the NCEES introduced this newer problem type, referred to as AITs.
AIT problems are formatted in a manner that falls outside the traditional multiple-choice.
These question types include:
Multiple Correct Answers – Allows for multiple choices to be correct.
Drag and Drop – Requires test takers to click on and drag items to match, sort, rank, or label.
Point & Click – Requires examinees to click on part of a graphic to answer the problem.
Fill in the Blank – Provides a space for you to enter a response to the question.
All these AIT problem types have one thing in common – multiple variables that contribute to a correct answer.
Now, although the majority of questions will continue to be in the traditional Multiple Choice format with one correct answer, this engineering examination will have up to 10% of the questions of Alternative Item Type nature, or AIT.
With this, you can expect to see anywhere from 10-15 AIT problems on whatever discipline specification you choose to tackle.
The scoring of these AIT problem types is the same as the traditional multiple choice problem types – you either get it or you don't.
To illustrate this further, say you are given a problem with 6 answer options and it asks you to "mark all that are correct".
If 5 have been slated as correct and should be marked, and you mark 4, or you select 5, but one of them is wrong, then…
You will get it wrong.
It's unfortunate, but a reality on the FE Exam.
To help you learn more about, practice and hone your ability to perform well on these AIT problems, we have developed a resource for you here:
Is the FE exam curved?

In short, no, the FE Exam is not curved.
But it is definitely important to understand how it is scored – let's lay it out as it is defined for us by the NCEES.
When you take the FE Exam, whether thats the FE Mechanical or FE Industrial, you will complete 110 questions.
Of those 110 questions, you are going to get a certain number correct.
This number is going to be recorded and converted into what is called a "scaled score".
This "scaled score" is used as an individual adjustment for any minor differences in difficulty across the infinite number of exam variants.
But what does "differences in difficulty" mean?
Before any problem is released into active rotation on the FE Exam, it is run through a control group of subject matter experts who work them in their entirety.
The results that come through this collective effort are run through a series of psychometric statistical methods that analyze the data.
This analysis defines some "minimum ability level" for the particular set of problems you end up getting on your exam.
This minimum ability level, which can be thought of as your pass line, is then compared to your "scaled score" and if you are above it, you pass, if not, you fail, so:
Scaled Score > Minimum Ability Level = PASS
Scaled Score < Minimum Ability Level = FAIL
And that's that.
The FE Exam is not curved and your passing score is unique to you and the specific set of problems that you end up working on the day of your exam.
Where can you find FE exam problems and solutions from recent exams?

I remember in college when certain student organizations would flaunt that they had the "deepest" test banks on campus.
So now that we are all graduated, where can you find test banks with FE Exam problems and solutions from recent exams?
In short – I am not sure.
But what I can tell you is this – if you can, it's certainly not legal, and I would highly advise against seeking and/or using any such material no matter what these student organizations say.
This is a very serious offense towards the NCEES and further compromises the integrity of this engineering examination and engineering licensure process.
So whether you are seeking the latest FE CBT Civil Exam or FE Mechanical, this NCEES fundamentals exam is copyright in full and no examinee is allowed to reproduce or disclose any information relating to a specific exam.
This includes but is not limited to discussing any exam questions, answers, solutions, or other problems on the Internet, forums, or any other related student organizations.
And they are serious about it – as they should.
To read more in regards to Intellectual Property Rights and Exam Security, you can refer to page 33 of the NCEES Examinee Guide found here.
On that note, here are a few options I would suggest you look in to rather than going down the road of seeking NCEES exam IP:
At Prepineer, we pride ourselves on our depth of detail, tailoring every one of our 1200+ practice problems we have created to ensuring that no matter where you are, you won't feel like you're spinning your wheels getting the understanding you need.
Whether it's Mathematics or Engineering Mechanics, we prep you fast, so there's no wasted time.
Click here to learn more about how we help students just like you with the most detailed FE Exam Prep out there.
How long should I study for the FE exam?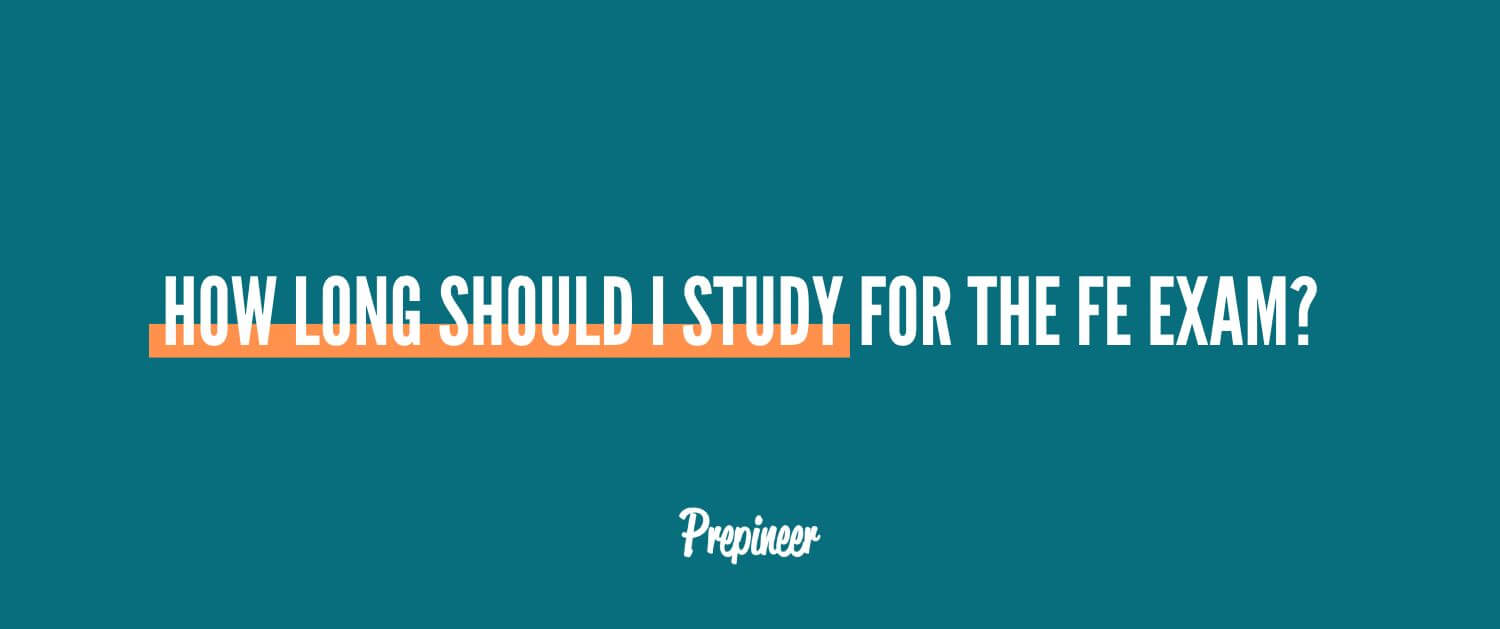 The goal should always be, no matter how long you have been out of college, to get it done on this attempt.
Right now, you are probably sitting in a pretty good position with some engineering experience under your belt.
Because of this, you will likely be able to roll straight from the FE Exam in to becoming an Engineering Intern and then on to taking the PE Exam and closing out the licensure process.
So how long should you study for the FE Exam?
As long as it takes.
I know it's not an answer that does much for anyone, so let's dive into this a bit deeper.
I will tell you, after helping students for over a decade prepare for and pass the FE Exam, determining how many hours one should be putting in each day, or overall, is one of the hardest things to do for us as coaches.
It's dependent on so many factors, but I can give you a general guideline as a starting point.
Over the years, we have seen individuals spend somewhere between 150-350 hours preparing for the FE Exam.
The lower end of this spectrum is typically those that are recent graduates or within a few years of graduation.
The upper end is typically those that graduated 20+ years ago and haven't picked up a book in just as long.
Wherever you feel that you fall, at Prepineer, we encourage you to spread this time over a period of at least 90 days – but prefer to see you give yourself closer to 110-120 days to be prepared.
This historically has played out to be much more realistic in the context of real-life, day-to-day responsibilities.
To help you go deeper in defining this for your specific situation, we developed the ultimate guide in determining how long you should study for the FE Exam.
Down to what it all looks like from a daily, hourly effort.
You can access the guide here:
How long should I study for the FE Exam?
In running through this guide, you will have a much better understanding of what the landscape ahead looks like for you.
How do I create an FE Exam schedule?

Getting your FE Exam study plan dialed in from the start is of the utmost importance in ensuring that you see this journey through.
But let's be real, we are horrible estimators of our time.
But it's not any one of us individually, those big shot estimators who are supposedly "educated" in the realm of scheduling fall right there beside us in falling short.
Think about all those highly funded construction projects that go far past the scheduled finish date.
So with that, how can I best guide you in developing your study plan for your upcoming FE Exam?
We have spent a lot of time developing resources in the realm of FE Exam scheduling, here are a few good places to start:
How do I study for the FE exam?

Looking over the exam specifications and knowing how long it's been since you studied the material, I am sure you realize just how much needs to get done and how important preparing for this engineering examination the right way is.
But I want you to know this –
I am confident in saying that passing the FE Exam CAN be a reality for you.
But truth is, most won't continue pursuing the FE Exam because they will tell themselves that they can't, for one reason or another.
And that voice gets louder and louder the longer you are out of school.
But good FE Exam prep matters – and it can BE the difference.
At Prepineer, we have put together a proven system that combines coaching and study materials that has helped even the most challenged individuals study for and get tthe FE Exam result they are after.
If we offered to help you do the same thing, would you take it?
Click here to learn more about why Prepineer is the best way to study for the FE exam and get started for free.
In Prepineer you will:
Get a real coach who knows how to get you to the finish line, despite how impossible you may think it is.
A custom study plan that breaks down exactly where you should be spending your efforts.
Proven study materials that have helped those who have failed (and been out of school for a long time) find success.
Use Prepineer for 7 days free, with no obligations.
How do I effectively use the FE Exam practice test?

A solid FE Exam practice test will be a vital part of any complete course to achieve your best exam result and passing score.
There are many ways that you can approach this one.
In my experience, the best way to get the most out of your practice test is to use them at strategic points during your FE exam prep.
When I was studying for the engineering FE Exam, I utilized a practice exam at two strategic points.
The first practice exam came right at the onset of my studies, before I even flipped to the first page in my FE review manual.
Using only the NCEES FE reference handbook and NCEES approved calculator, I went at the whole practice exam in one shot.
I bombed it.
I was far from prepared, but looking back, I now understand how necessary this was because it helped me establish a baseline for what I needed to focus on when I got in to my course material.
How else would I have known that I needed a heavy dose of Engineering Economics and Statics?
After making it through all my study materials and a week before sitting for the exam, I took the same exact NCEES practice exam as I had at the onset.
My exam results on this go were much better, but were still a bit sketchy and I struggled mightily on things such as time management and problem comprehension.
This should be expected though, as most all engineering courses or any amount of practice problems can dial you in on test taking skills.
It's an area you need to focus on using your reference material as a tool for, and not the means to, solid test taking skills.
So with that, I waited a day or two and took the final NCEES practice exam, structuring it the most realistically as I could under timed conditions.
At Prepineer, we use the utility of a practice exam and well structured practice problems at all the critical points of exam prep.
At the front end, we establish a strengths and weaknesses baseline for each one of our students by taking them through a practice exam where they use only the NCEES FE reference handbook and approved calculator.
We then develop a customized study plan that takes the FE exam results and converts it in to a visual schedule that helps them better distribute their time and focus throughout each day of their studies.
Click here to learn more about how our Prepineer coaches use practice exams to help our students be better prepared, faster and with a lot less effort.
Whether you are studying for the FE Mechanical or FE Electrical, using a practice exam at strategic points of your studies will help you focus your efforts better on where you are lacking ability and comprehension – ultimately, leading to a better exam result.
And that's what we are all after.
Is passing the FE a big deal?

Let me put this in terms of my story, I think it will resonate.
I pursued an engineering degree because of the security I felt it would bring.
In my world view, an engineering degree was the ticket to a long, ever-evolving career that returned both personally fulfilling and monetarily.
Coming out of college, the foundation of my formula was this:
Get in at a solid engineering firm and rest as they fast-tracked me up the proverbial ladder.
But that is where I was wrong…"rest as they fast-track me up".
Your structural engineering career does not start, nor finish, after graduation – it just continues.
There was a formula that worked to get you to the point you are right now in your life, and at the center of this formula was an investment in yourself.
Here's a reality check –
No one will put more care or effort into developing you into what you are meant to be than yourself.
And it's going to be you who turns to understand why passing the FE Exam is a big deal.
Listen, every single individual, and corporate executive alike, has their own personal agenda for where they want to be in the years to come.
And who are we to think that anyone will forgo their own agenda to drive ours?
This is where many of us stand at this moment, balancing on the seesaw of:
Relying on someone else or –
Realizing that doing so is just a pipe dream that does nothing but lead to endless letdowns.
And this is why passing the FE Exam results in being a big deal.
Whether you are taking the FE Electrical or want to become a Civil Engineer, the Fundamentals of Engineering exam (FE Exam) is the first step towards acquiring your Professional Engineering (PE) License.
As a licensed Professional Engineer, you become part of a group granted a number of exclusive benefits, some including:
The ability to stamp and seal Engineering drawings
Owning your own Engineering Firm with your name associated with it
Performing individual consulting services to the public
Greater increases in salaries
Now, for some, you will look at this list and think to yourself, "I don't really want to do any of that…".
And that's OK.
But here's why we need to look at that list from a different perspective.
Remember, everyone has their own personal agenda for what they are after.
The agenda of every corporate executive is to maximize profits while the agenda for each of us should be to maximize our position to take advantage of those profits.
We do this by maximizing our value as the "engineering talent".
It's, for a lack of better terms, a game we need to play…and it all continues with pursuing the FE Exam.
We need to be the "engineer" who:
Is pulled in on ALL those proposals going out the door at the 11th hour.
Can justify the highest billable rate.
Is recruited by other firms because we fulfill both the above conditions.
Is…well, "needed" at ALL times.
That's when our personal stock becomes the "asset" rather than the "commodity" we are conditioned to accept post-graduation.
Recent trends have shown that at this point in history, you control the direction of your career more than ever.
Engineering positions continue to be one of the toughest spots to fill with US employers struggling to find talent.
This is across the board: Civil Engineering, Structural engineering, Mechanical Engineering.
This is simple supply and demand, with studies showing that this demand will only continue to build.
Taking action to become licensed engineers is on us and we can't wait for others to do for us which we can do for ourselves.
So when you ask is passing the FE Exam a big deal, look at it from a different perspective.
We've played the game all the way up and through college graduation, the time to stop is not now – or ever.
We can't rely on others to adjust their agendas to push us up the ladder…this is a risk not worth taking.
What to do after you pass your FE exam?

After you pass the FE Exam you will generally go one of two ways.
Apply for your EIT Certification and become an Engineer Intern (or Engineer in Training)
Gain the required engineering experience needed prior to applying to take the PE Exam
However, since you have already been out of school for a while, my guess would be that you have already, or are close to, achieved that second requirement of acquiring work experience.
Now licensing requirements are not set uniformly across the board by the NCEES, but rather, by each state's engineering board.
With that being said, most states have an Engineer Intern (or Engineer in Training) program.
If your state is one that does, then after you pass your engineering FE exam, you will move to submit an application to receive your EIT Certification.
Though having the EI (or EIT) designation does not give you any additional legal benefits, it does bode well for your marketability as employers are often seeking to employ individuals that show initiative in their development as professional engineers.
As an Engineer Intern, you are also able to use the initials EIT (or EI) at the end of your signature which is kind of a cool milestone for one to reach.
If you live in a state that does not have an Engineer Intern program, like Michigan, then you will move to the next step in the licensing process which is to continue gaining the progressive engineering experience as required by your state to become eligible to take the PE Exam.
Is my work experience considered to be Progressive engineering experience?

Since your graduation from college was a while back, then you likely have work experience, but is it Progressive engineering experience?
Progressive engineering experience can be defined in a number of different ways, but generally, if you are working under the supervision of a registered Professional Engineer then you are acquiring the appropriate work experience.
This is essentially showing that you are actively working with and as an engineer and developing your skills in a professional environment.
Typically, the minimum progressive engineering experience required to apply for the PE Exam is 4 years, but it does differ from state to state and, in many cases, is dependent on the accreditation of the undergraduate program you graduated from.
Do I have to take another exam after I pass the FE?

The FE exam is the first step in acquiring your Professional Engineer (PE) License.
Once you pass this exam and gain certification as an Engineering Intern, it is not required to take any further tests to maintain the certificatiton.
You may though need to pay a fee to renew the certification every given period of time as defined by your specific State licensing Board of Engineers.
As mentioned in the previous section, after you pass, you enter a period in which you work under the supervision of a Registered Professional Engineer to gain experience.
Once this progressive engineering experience is gained, typically 4 years, you will apply for and take the Professional Engineer exam, which is also administered by NCEES.
When you take and pass the Professional Engineer Exam you become a PE, graduating from Engineering Intern status.
Is FE harder than PE?

In theory, the FE Exam should be easier, but from over a decade of experience with our past students, it tends to be the harder of the two exams.
I myself thought the same thing after my experience – here is my theory on why this may be.
The very nature and goal of the FE Exam is to document that you are competent in the "fundamentals of engineering".
These fundamentals cover a wide range of foundational engineering concepts. From Mathematics and Engineering Economics to Statics and Fluid Mechanics, the FE Exam is designed to span the entirety of our undergraduate engineering curriculum.
The exam is broad.
So at the very least, if we are taking the FE as a recent graduate, then we could be 4 years removed from some of the fundamentals we are being tested on.
I can tell you though, most of our students aren't taking this exam right after graduation – and niether are you, so it's much more than 4 years removed.
And that takes me to my next point on why the FE Exam tends to be harder than the PE Exam.
If we are honest with ourselves, after graduation and into our careers, we are not applying these NCEES fundamentals at any meaningful level in the field.
That's just real talk.
And because of this, just as a muscle atrophies when we don't use it, so does our ability to perform the workings of these "out of practice" concepts.
I wouldn't say they completely go away, but they need to be reinforced and built up, just like our fitness when we get back into the gym after a long period of time away.
We know this intuitively, but because most view the FE Exam as the "fundamentals exam", we underestimate the material that is specified to be on it.
We approach it overconfidently, not necessarily winging it, but not giving it the due respect it deserves and because of this, we fail.
The reality of the "atrophy" only intensifies over time.
I tell my students to take the exam as soon as they can to avoid the nature of knowledge deterioration.
Taking the exam as a recent graduate 1 year out is much different than taking it 2 years out – much different than taking it 5 years out – much different than taking it 10 years out.
To expand on the concept of knowledge deterioration as the years go by, to make it even harder, your individual responsibilities increase over that same time period.
You likely don't have a family 1 year post graduation, but you may get married 2 years out.
And then family comes, and those dynamics only increase 5 years, 10 years – 15 years out.
We as engineers don't tend to future project these scenarios into FE Exam prep.
Now, I will add one last theory as to why the FE Exam is harder than the PE Exam – it's meant to "weed out".
We all can look back to our undergraduate engineering curriculum and know exactly where we experienced the "weed out" classes – those classes designed to push us to our limits and make us decide really whether or not we wanted to be engineers.
These classes ensured that only the best continued to go down the path of becoming engineers.
They acted almost like a quality control measure.
I obviously can't confirm this, but it would make sense that in the same way, the FE Exam weeds out those that don't want to put in the work necessary to become legitimate engineers.
This does make sense, since generally speaking, the Professional Engineer boards in each state have a mission of regulating the professional practice of engineering services for the purpose of safeguarding public health, safety and welfare of the people in their state.
With this, the licensing process is the only means that they can deploy at scale to ensure that those that they are licensed to practice engineering in their state are vetted at the most stringent levels.
Again, a quality control measure.
And these are my theories on why so many are experiencing an FE Exam that is harder than the PE Exam.
Why should I take the FE Exam?

I get it.
After being away from any engineering curriculum for a measurable amount of time, convincing yourself to pick back up the books and take it can be a monumental ask.
Now, I could go many directions at this point, but let me give you my general thoughts.
You spent at minimum 4 years (probably more) navigating all this engineering curriculum to get your degree, why surf the world of cubicles until you retire.
Many people do, and if that's your choice, I respect that.
But many don't want this to be their story, you just feel stuck.
Stuck behind doubt.
Stuck behind excuses.
Stuck behind fear of failing.
Stuck behind supervisors you feel are holding you down
Whatever it is that is holding you back, just know that all it takes is one simple step in a direction you deep down want to go that can change it all.
One simple step.
And then another.
That's it.
Rome wasn't built in a day.
You didn't get your Engineering degree in a week.
It took commitment to get where you are, and that's what it will take to make this a reality in your life.
Commitment to turn from limiting beliefs.
Commitment to telling yourself you are more than just an employee.
Commitment to accepting that progress in life will be uncomfortable.
It was never meant to be easy.
Becoming a Professional Engineer and getting your PE License is hard…but it is what all engineers should be aiming for.
It's liberating both personally and professionally.
The doors it will open can't even be projected.
Engineers that were once thinking the same thoughts you are, took that first step in continuing education and are now making amazing impacts around the world every single day.
But it all starts with passing the FE Exam and becoming an Engineer Intern.
Don't let the fact that you have been out of school for a long time hold you back or make you question your love for Civil Engineering.
We've seen it play out time after time, students who have come into Prepineer after being out of college for a while, with huge doubts but were able to defy their own odds and go on to pass the exam with flying colors.
This can be your story.
I am confident in saying that.
Final Thoughts on how to take the FE Exam long after graduation

I hope that this resource has brought you clarity on how to take the FE Exam, what it's all about, what it can do for you and why you need to give it a solid go.
But I know, just as many answers as I have given, there may have been just as many new questions in how you can get it done.
But whether you are taking the FE Electrical or FE Civil Engineer, passing the FE Exam shouldn't be a mystery.
Sadly though, many will doubt that they can get it done, and in turn, give up on themselves and their careers.
I don't want that to be you.
If I offered to show you a system that has worked for thousands in your same shoes pass the FE, would you take it? Click here to start your trial and learn the exact framework that will help you pass the FE Exam.