If you are wondering whether or not you can put the EIT acronym (or EI) after your name in your emails, or on your resume – or anywhere for that matter, then this discussion will help you understand all the ins-and-outs.
We all intuitively know, for whatever reason, that the professional world we live puts a lot of weight on the acronyms one has after their name or professional title.
I mean, whether or not it's deserved, we know –
Rick James and Rick James LEED AP, PE, IDC, BLAH is one person, living two dramatically different corporate realities.
That's just real talk.
I am not a fan of this whole pursuit of endless acronyms, to me, it means nothing – it's empty.
I have worked alongside some of the most incapable peeps with a thousand acronyms in their profile and the most capable peeps without any acronyms.
I'd choose an uneducated, open-minded, self-directed learner far before I'd take an educated, close-minded, entitled individual in any situation.
But I digress.
Is the FE Exam EIT something you can start taking advantage of?
Let's get in to it.
Understanding the FE Exam EIT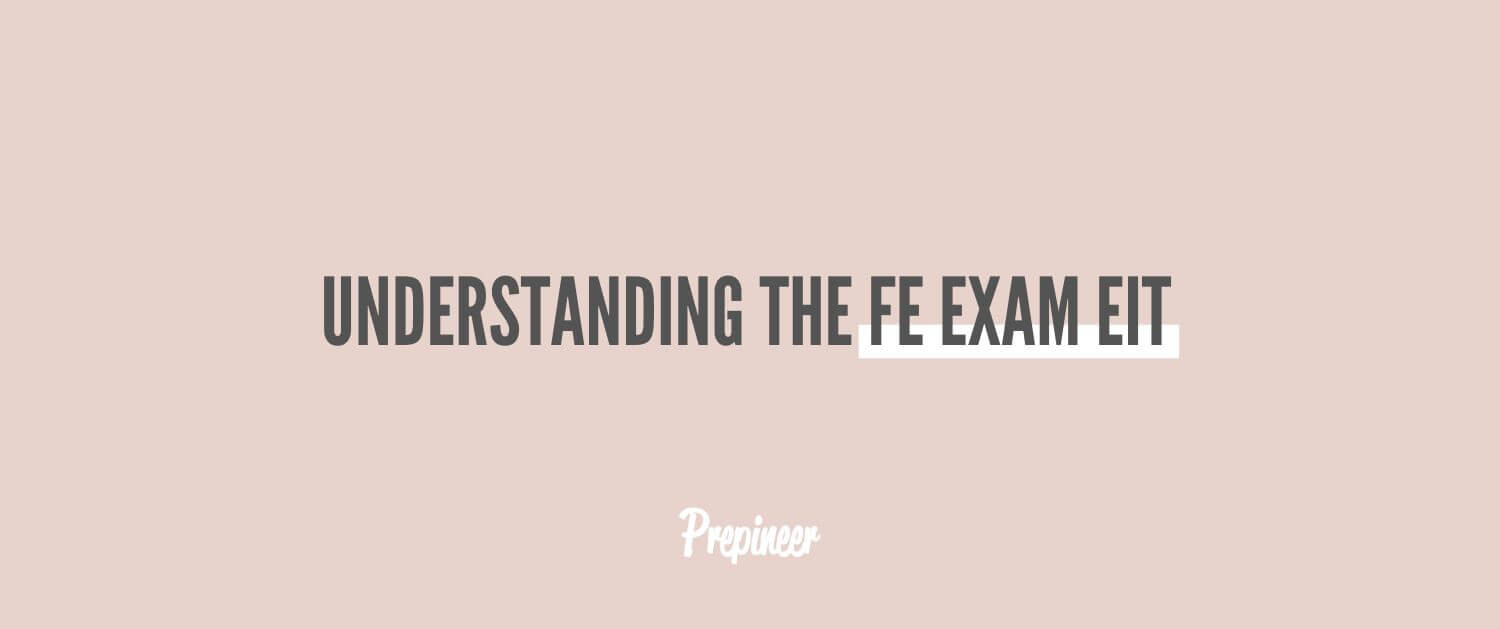 This FE Exam EIT question tends to come into the Prepineer headquarters running along these lines:
I just passed the FE Examination. Can I put EIT after my name in my email signature?
To be sure that we are all on the same page, there are a few areas I'd like to hash out here:
The difference between the FE Exam and EIT (or EI).
The difference between the EIT and EI.
Can (and should) you use the EIT acronym.
Does an EIT make me an Engineer?
Let's hit them one by one.
What is the difference between the FE Exam and EIT (or EI)?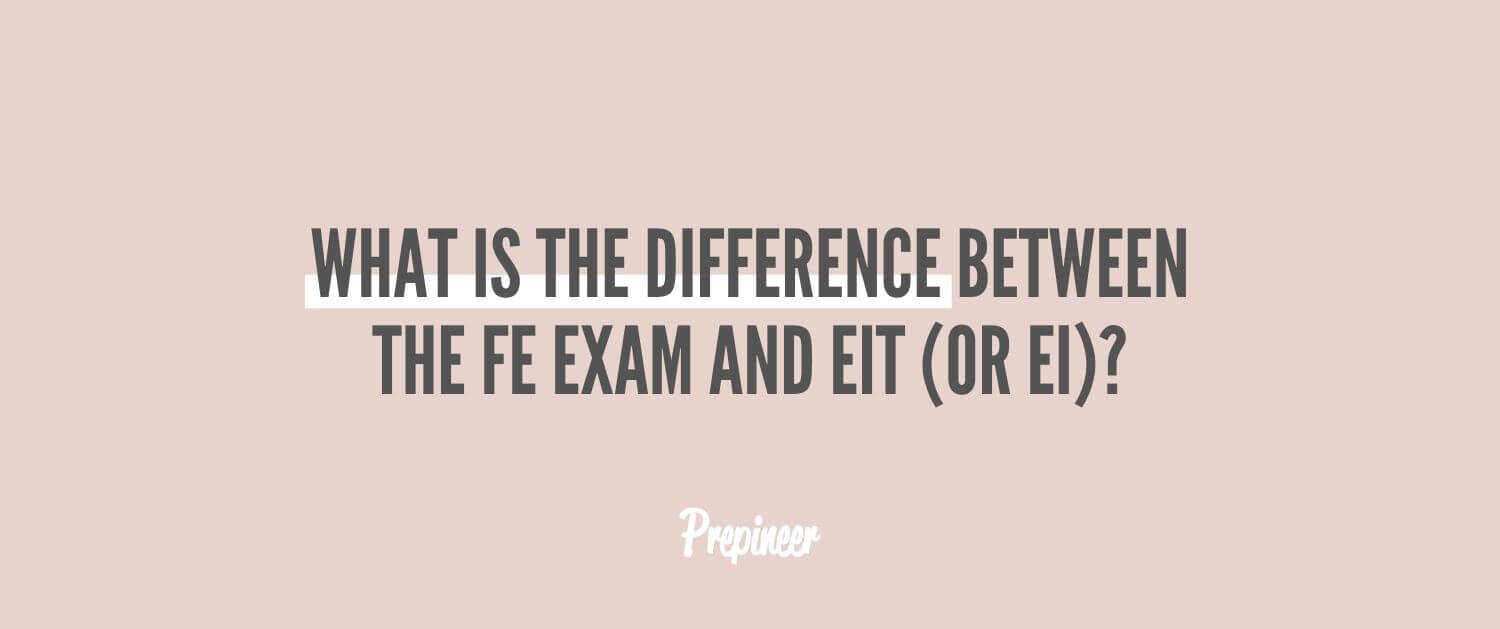 Often times we hear the term FE Exam EIT being used as one singular item.
It is not.
The FE Examination is the precursor to gaining eligibility to apply for your EIT or EI.
The FE Exam (NCEES Fundamentals of Engineering Exam) is one of two exams (the second being the PE Exam) that an aspiring engineer will take in route to becoming a licensed Professional Engineer.
You may also hear the FE Exam referred to as the EIT Exam (Engineer In Training Exam) or the EI Exam (Engineer Intern Exam), all of which are the same exam.
To take a deeper dive into this, we've put together a resource outlining all that you need to know about taking and passing the engineering FE Exam here:
The FE Exam: What is it and why you need to take it now
Once you pass the FE Examination you will go one of two ways:
Apply for your EIT Certificate and become an Engineer in Training (or Engineer Intern)
Gain the required engineering experience (ie work experience) needed prior to applying to take the PE Exam and get your PE license
Most states have an Engineer in Training (or Engineer Intern) program.
If your state is one that does, then after you pass your FE exam, you will move to submit an application to receive your EIT Certificate, and once approved, you will legally be able to refer to a yourself as an EIT (or EI).
So that's the difference between the engineering FE Exam and EIT – one is an exam, the other is a certification that you can obtain after passing that exam.
What is the difference between the EIT and EI?

I am sure it's apparent by this point, the world of engineering licensing is riddled with endless names and acronyms referring to the same thing.
Let's set some terminology straight.
Depending on your state licensing board, you may be seeing Engineering Intern (EI), or Engineer In Training (EIT), or maybe even Intern Engineer (IE) tagged on the end of a colleagues name.
Question is, can you get them all?
What's the difference?
Each state has its own regulations in regards to the designations you may legally use once you gain your EIT Certification.
However, each term (EIT, EI and IE) are all synonymous with one another.
All just mean that you have successfully achieved the milestone of passing the FE Exam.
You can view your state's rules and regulations as they relate to legal designations here:
FE Exam Requirements State by State
So whether you are seeing it on a business card, in an email signature or within a job description, having your EIT Certification, and further, using the acronym EIT (or EI et al) just means that you have taken and passed the FE Exam.
Can (and should) I use the EIT acronym?

Now that we have laid the groundwork and clarified a few things, we are here:
Can (and should) you slap that EIT acronym on to the end of your name in your emails?
Welp, if you:
Have passed the FE Exam (FE Electrical, FE Mechanical, FE Other Disciplines, et al) and
Have applied for and were approved for your EIT Certification
Then yes – and why not?
Again, in a world that champions professional titles, it can only benefit you in the midst of worthless paper resumes.
It's a way to announce to others that you are an Engineer in Training (Engineering Intern).
It's a way to gain a bit more authority and respect until you get your PE License and become a Professional Engineer.
I am always encouraging my students to approach their careers with a different, more empowering mindset.
I am encouraging them to understand that THEY are the asset, not the companies that employ them.
It's certainly a paradigm shift, but one that will give you more clarity on how to properly play the game of it all – here's a discussion that dives deeper:
The most powerful paradigm shift I have encountered
Does an EIT make me an Engineer?

It does not.
Using the EIT acronym (or EI) is as far as you can go until you pass that PE Exam and obtain PE licensure.
Each state licensing board regulates the use of certain "engineer" terms until you gain professional licensure.
So though you can use the acronym EIT or the term Engineer Intern, you can not refer to yourself using variations of "engineer" (e.g., registered engineer, licensed engineer, Mechanical Engineer, Professional Engineer, etc).
This means that you can't put your "position title" on your business card or email signature as Civil Engineer, Mechanical Engineer, etc. 
However you can use a title such as Civil Engineering Intern or Mechanical Engineering Department, Environmental Engineering in Training etc.
So though it does provide you a boost as the engineering talent, it does not grant you the full slate of benefits that come with having your PE license.
Final thoughts: Can you use the EIT acronym?

After all that was just written, I am sure it's clear that the short answer on whether or not you can use the EIT acronym is maybe.
If you have passed the NCEES FE then you are close.
Each state licensing board does have an application processes tied to officially being recognized as an EIT (or EI), some of which may include reviewing educational background, checking moral character and/or references.
Though of all of these, passing the NCEES FE Exam is the major milestone.
While some states call it good once you pass this first NCEES exam, like everything else, each state licensing board will have their own unique course of action in making things official.
Some states like Michigan do not maintain an EIT database, and only require that you upload your NCEES exam results when you go to apply for PE licensure – while other states require you to submit an application and fee to be officially recognized as an EIT or EI.
For example, in California, once a student passes the NCEES FE Exam, they must submit an application along with a $75 fee to be granted their engineer intern certification and become an EIT.
Once you run through your state's engineer intern certification process, you will need to know which title you are allowed to use – what you can actually call yourself.
Generally speaking, the typical titling most state licensing board's adhere to is that of an Engineer in Training, Engineering Intern, or some variation thereof.
So yes, pass the FE Exam and you are on your way to jumping in on the acronym party, but it is likely that there will be some course of action you will need to go through to officially gain your engineer intern certification and become recognized as one.
Our FE Exam state resource pages can get up to speed on the most critical questions being asked about the FE computer based exam, including exam prep strategies, study material and what you need to know about the FE Exam specifications in your state:
FE Exam Specifications by State
If looking at the FE Exam specifications has made passing this exam seem impossible, then we are here to help you find success.
Click here to see how personal coaching and in-depth study material can help you make the dream of getting your PE license a reality.
And I'll tell Rick James LEED AP, PE, IDC, BLAH that you have him in your sites.
You got this.