One question we get often revolves around the FE Exam topics specified by the NCEES.
One student recently brought it to us in this way:
I'm studying for my FE Exam and in the NCEES FE Other Disciplines Specifications, it has FE Exam topics that I can't find any information on when I CTRL+F search the FE Reference Handbook.
Does this mean on the actual exam if I get questions on this exam topic they will be purely conceptual and if there were any information in the FE reference handbook, it would give the answer away too easily?
Or should I just give those FE Exam topics a quick once-over during my exam prep and call it good?
This is a great, and important, question due to the dense nature of this NCEES exam.
If we are able to eliminate anything during our FE Exam preparation, this would save us a lot of time as we prep for the actual exam.
But before we get into it, let's make sure that we are all on the same page.
What topics are covered on the FE exam?

To start, the FE Exam topics will vary depending on which exam specification you choose.
Currently, the NCEES FE Exam is offered in seven disciplines, they are:
FE Chemical
FE Civil Engineering
FE Electrical and Computer
FE Environmental Engineering
FE Industrial and Systems
FE Mechanical
FE Other Disciplines
Each exam specification has its own unique list of exam topic that you will work through on the actual exam.
From the basics of Math and Engineering Economics through the more discipline-specific subjects such as Structural Engineering, Geotechnical Engineering (FE Civil Exam) to Machine Design (FE Mechanical) and Digital Systems (FE Electrical), this 110-question NCEES exam is designed to validate your foundational knowledge of FE Exam topics that span the entirety of your undergraduate engineering degree course work.
You can reference the details of each exam specification on the NCEES website here.
How many topics are on the FE?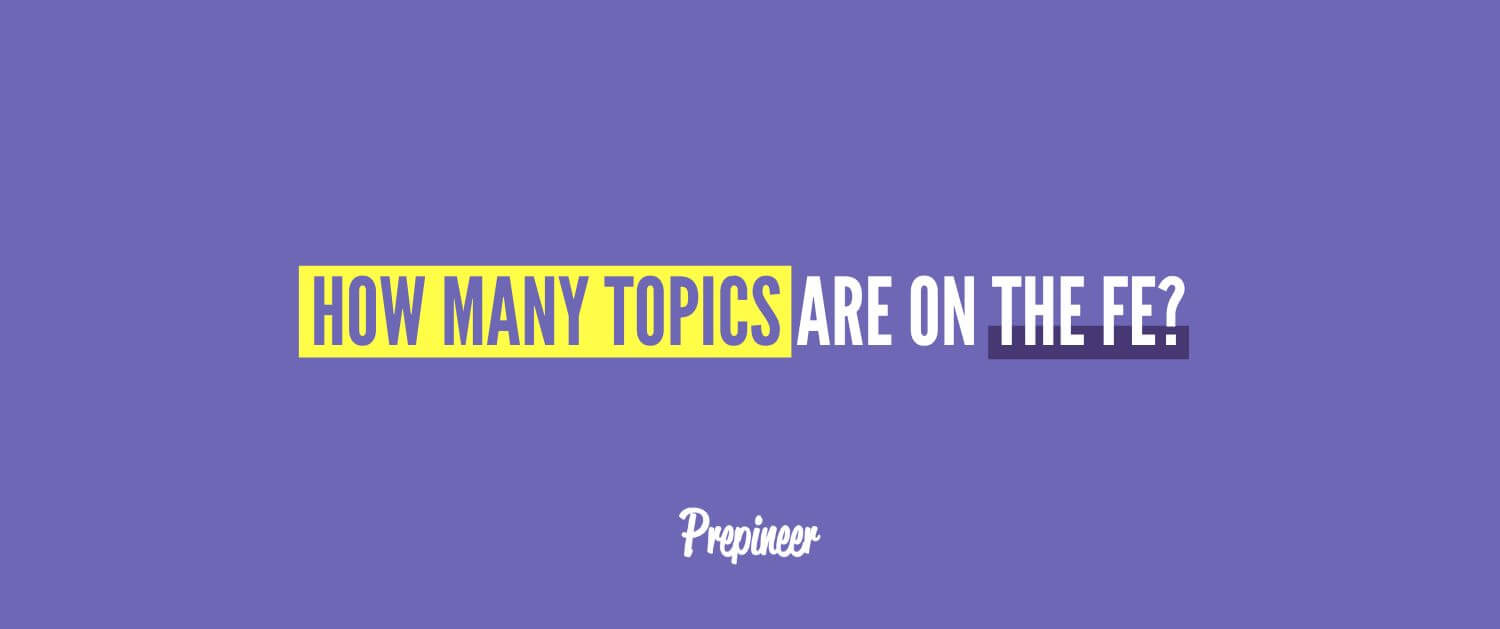 This question piggybacks off of the previous one.
Though each examinee will work 110 questions, depending on the exam specification you choose, these questions will be distributed over a range of 13 to 17 FE Exam topics.
As it is currently outlined on the NCEES website for each exam specification, the exam topics for each are:
FE Chemical – 17
FE Civil Engineering – 14
FE Electrical and Computer – 17
FE Environmental Engineering – 15
FE Industrial and Systems – 13
FE Mechanical – 14
FE Other Disciplines – 14
Again, the engineering FE Exam topics will range from the most foundational subjects of Mathematics and Engineering Economics to the more discipline specific subjects of Geotechnical Engineering and Professional Practice.
Which is the hardest FE exam?

So would that mean that the exam specification with 17 exam topic will be the hardest?
Or that the exam specification with 13 will be the easiest?
Not necessarily.
At Prepineer, we don't believe in guessing which exam specification is going to be the easiest or the hardest, that tends to be a losing proposition.
Instead, we encourage our students to focus more on the "who" each exam specification is developed for and make a strategic decision based on that.
We believe that after doing this, you will strongly consider taking the FE Other Disciplines exam instead of your discipline-specific exam.
This is our dedicated strategy here at Prepineer, to prep all of our students for the FE Other Disciplines exam regardless of discipline backgrond.
Providing this in-depth course of FE Exam preparation has led to great success for even the most challenged of students.
You can read more of the why behind our FE Exam preparation approach here:
Will all the topics be on the FE Exam?

Now back to the question that we are here for:
Will there be topics the exam specification but not on the NCEES FE Exam?
The answer is…maybe.
In short, if it's stated in the exam specification, then it is fair game.
It would be safer for you as the examinee to assume you will see it in some capacity.
With that being said, to what depth should we expect is the real question.
If there is not a formula presented to you in the NCEES FE Reference Handbook, then I would lean in the direction that you wouldn't see a qualitative question on your exam day.
However, that's not necessarily certain to be the case, we are just playing the odds here.
Final Thoughts on the FE Exam topics on this engineering exam

I hope that this discussion has brought you clarity on how to approach the engineer FE and those FE Exam topics that you are seeing specified but not well covered in the FE review manual.
Our advice as you approach your exam day is to fail-safe in these areas of uncertainty.
We would suggest that for the areas that you are seeing on the NCEES website, but not so much in the FE review manual, that you give the material the good'ol 1-2 once-over as you prepare for your engineering FE Exam.
Work a practice exam problem or two (easy to find) and know generally what needs to be done as a fallback – then move on from there.
At Prepineer, we would never advise skipping over anything that is spec'd to be on the engineering FE, but the reality is, there is a lot to be covered.
So in times like these where things can't be reconciled back to the NCEES FE Reference Handbook, then playing the odds may allow some breathing room in your FE Exam prep.
Taking the next step

We've been doing FE Exam prep long enough to know that no matter how in-depth we go in exploring these deeper questions, students still need a clear path to a next step.
Are you tired of spinning your wheels and going sideways in exam prep, while never gettting any closer to feeling prepared?
Passing the FE Exam shouldn't be a mystery.
Sadly though, many will doubt that they can get it done, and in turn, give up on themselves and their careers.
I don't want that to be you.
At Prepineer, we have been helping engineers just like you prepare for and succesfully pass the FE Exam, move on to PE Exam and PE Licensure.
We want to do the same for you.
If I offered to show you a system that has worked for thousands in your same shoes pass the FE, would you take it? Click here to learn more about how we help our students find success on the FE Exam.
If you are serious about passing this exam, you don't have to struggle anymore, we can help.
Click here to learn how we can help and claim your free 7-day trial.