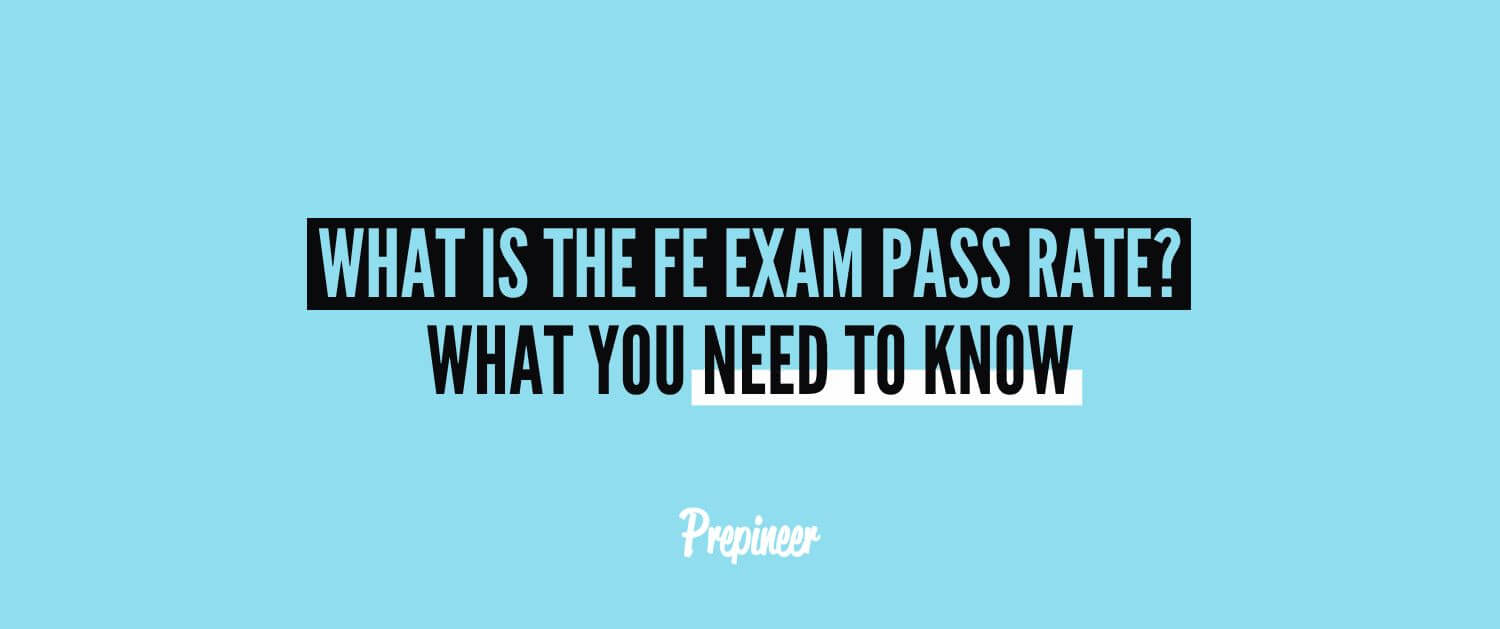 Let's talk about the FE Exam pass rate, what it is and why you should (or shouldn't) allow it to drive whether or not you take the FE Exam.
We all know, a ton of questions pop up when we first consider taking the FE Exam.
What is it?
How long will it be?
Where do I take it?
These are all great to know questions, and we do a deep dive into each of them and more in this resource:
The FE Exam: What is it and why you need to take it now
However, if we could be honest with ourselves, the question that all of these rest on is:
What are my odds of passing the FE exam?
Let's get into it.
Understanding the FE Exam Pass Rate (& Score)
I get why you would find yourself here, trying to find out what the FE Exam pass rate is.
Anyone who is about to set out on any major endeavor is going to want to have a feel for what their chances of success are.
So when it comes to taking the FE Exam, do 20% of the exam takers pass?
Or is it 50%? 75% of the exam takers?
Knowing the FE Exam pass rate gives us a sense of the overall difficulty of the exam.
It gives us hope, allows us to envision that a passing score is possible for us.
And many times, simply having that glimmer of hope will unlock everything else and allow us to move forward with clarity and confidence that we can be part of the success side of the FE Exam pass rate statistic.
So with all that being said –
What is the FE Exam pass rate in my state?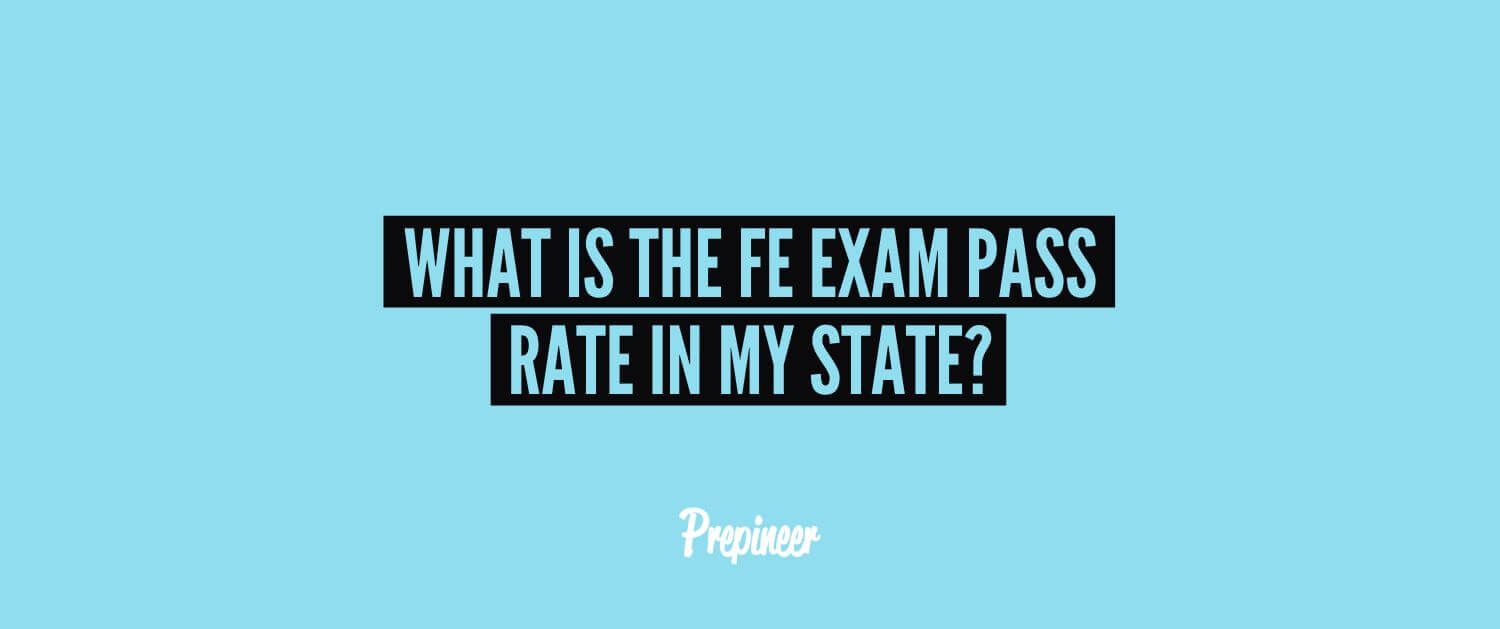 Individual States don't release statistics for how many people are passing or failing the engineering FE Exam in any given period of time.
However, the NCEES keeps a tally of these statistics for a single testing period for the population as a whole.
Currently, the FE Exam pass rate ranges between 40% and 90% depending on how you are looking at the data.
From an exam specification perspective, the national council reports the following:
FE Exam Pass Rate (Updated July 2023)

| Exam | Volume | Pass Rate |
| --- | --- | --- |
| FE Exam Chemical | 546 | 71% |
| FE Exam Civil Engineering | 5701 | 66% |
| FE Electrical & Computer | 1065 | 66% |
| FE Exam Environmental | 830 | 76% |
| FE Industrial & Systems | 216 | 68% |
| FE Mechanical | 3484 | 71% |
| FE Other Disciplines | 811 | 60% |
For those who took the FE Other Disciplines during this period, the FE Exam pass rate based on undergraduate engineering degree was reported as:
FE Exam Pass Rate for FE Other Disciplines by degree (Updated July 2023)

| Program | Volume | Pass Rate |
| --- | --- | --- |
| Agricultural | 25 | 48% |
| Architectural | 126 | 51% |
| Biological (not Bio-Medical) | 125 | 62% |
| General Engineering | 108 | 56% |
| Materials | 25 | 40% |
| Mechanical Engineering | 54 | 69% |
| Mining/Mineral | 58 | 43% |
| Naval Architecture & Marine | 31 | 90% |
| Nuclear | 55 | 84% |
| Ocean | 29 | 90% |
| Other Engineering | 32 | 47% |
| Petroleum | 33 | 48% |
This data is updated as of July 2023, the latest statistics can be found on the NCEES website here.
Sssooooo – if this gets you thinking –
My chances aren't looking too good…
Let me put those thoughts to rest with an important caveat to all of what we are looking at here.
Does the FE Exam pass rate tell the whole story?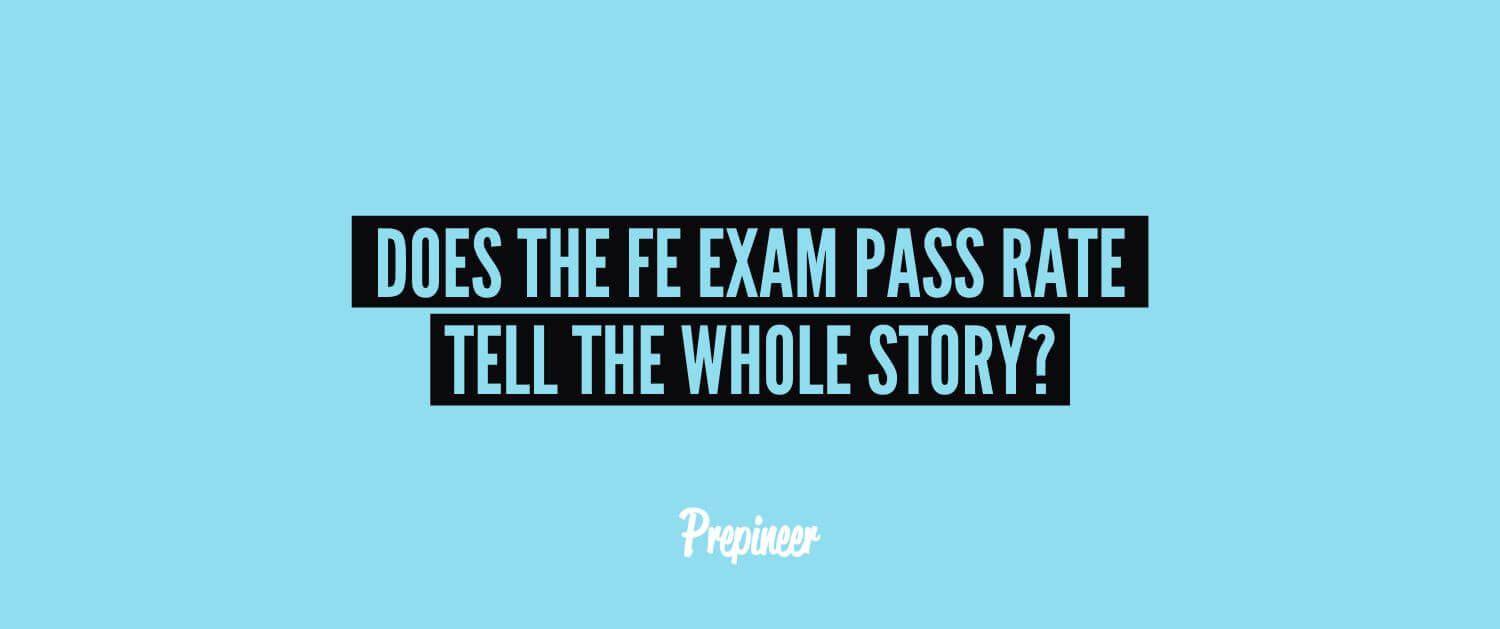 Knowing the FE Exam pass rate can be great, but how much weight should we be putting on it when making a decision on whether or not to take this exam?
The latest 40% to 90% pass rate is a gigantic range, and if I can be honest, shouldn't weigh too heavily either way in your decision to take the exam.
Here's why, this data accounts only for:
Those who took the FE exam for the first time.
Those who attended an EAC/ABET-accredited engineering program.
Those who took the FE exam within 12 months of graduation.
I can tell you this much –
Of 100 students that come into our program at Prepineer, 95% fall outside one (or more) of these criteria.
These stats reflect a population of individuals who meet the ideal testing characteristics of a candidate, not the mean characteristics as a whole.
Maybe this get's you thinking that because you fall outside these "ideal testing characteristics" that the data is telling an even more bleak story.
I would disagree.
These statistics aren't capturing the most important details of "why" these people are either passing or failing – so here are my reflections based on experience.
After more than a decade helping students who failed the FE Exam the first time they took it, they will admit:
They winged it.
They just needed to take it to graduate.
They didn't have enough time to study.
Or in other words, they didn't put much emphasis on prep for one reason or another.
They underperformed because they underprepared.
So is this a good thing?
I would say that it is.
It's not that because you –
Have already failed the FE Exam before or,
Don't have a degree from the EAC/ABET engineering accreditation commission, or
Are taking the FE exam years after graduating
– That will be the primary factors that determine whether or not you pass the FE Exam.
It's the other factors, that you can control, so with that –
What factors influence the FE Exam pass rate?
So let's just assume that you are part of the 95% of test takers that fall outside one or more of the characteristics that this data is based on – what factors will most contribute to whether or not you pass that actual exam?
At Prepineer, we've worked with so many talented engineers around the world who felt like passing the FE Exam and becoming a licensed Professional Engineer was beyond them.
But it wasn't for them, and it isn't for you.
There are two major factors that will heavily contribute to whether or not you have a successful run toward licensure.
First, recognizing the unique challenge of FE Exam prep outside of academia and then –
Second, getting the right course structure in place that will support you through to your exam day.
Both which are in your control – from day one.
At Prepineer, we know that successful FE Exam prep goes beyond just opening a book and reading study material.
So before you open a single page to review, we encourage you to be intentional in getting the proper components established – in which, there are three that will make an incredible impact on your results.
Let's summarize each.
Mentorship

The absence of a clear vision is a major hurdle to overcome for those pursuing the FE Exam and PE licensure.

In college, we had clear goals and direction that were laid out for us by our professors – post-academia, a clear defined path isn't something that we inherently have.

Because of this, many mistakenly believe that progress toward this goal should follow a linear path without any setbacks.

However, success is rarely achieved through a linear trajectory – there will be hiccups, dead ends, and false starts.

To overcome this obstacle when preparing for the FE Exam (and PE Exam), it's essential to seek out and spend time with Professional Engineers who can serve as mentors and encourage you to push through the ups and downs that are sure to come.

Success on the FE Exam is greatly influenced by limiting the roadblocks along the way and reducing the mental barrage of thoughts that come from experiencing them.

Associating yourself with those who have already achieved the certification that you are after is a crucial component to combat this.

Accountability

For most of us, holding ourselves accountable while doing hard things is – well, hard.

Connecting with others who will hold us accountable is a powerful motivator that instigates action and follow through on our personal and professional commitments.

Especially through this licensure process.

To increase your chances of success on the FE Exam, set out to put an accountability partner into place.

It really doesn't matter who this is – a family member, friend, co-worker.

Regularly meet with and share specific actions with this accountability partner.

Regardless of the size of these actions, tap into the power of accountability in achieving this goal of yours.

Quality FE Exam study material and program

Our core program belief at Prepineer is that a successful FE Exam prep course should go far beyond just words written on a page – beyond just study material.

It should focus strategically on building a program around the unique needs of each individual student.

It should specialize in the details, tailoring every review, practice problem set and diagnostic exam to ensuring that no matter where the engineering student is, that they are equipped and gaining understanding fast without wasting time.

It should ensure clarity on the path, helping them build confidence that they are on the right track to get it all done in the time they have before their exam day.

It should hold one another accountable, coaching students with expert advice that encourages and motivates them to continue putting in the work despite the inevitable obstacles.
All of these components are a must for finding yourself on the positive side of the FE Exam pass rate, without one and the whole prep journey suffers.
Have them all, and you are humming a harmonic tune towards success on the day of your FE exam.
So this would be our advice when looking at and interpreting the FE Exam pass rate data that is given to us by the national council.
Whether your undergraduate engineering curriculum was Civil Engineering or Environmental engineering, know that –
You can't approach this engineering exam in the same way you approached exams while in college.
Seneca captured this sentiment best when he said –
"Success is the result of preparation meeting opportunity."
Passing this computer based exam is an opportunity that starts far before your exam date.
Final Thoughts: What is the FE Exam Pass Rate?

So what started as a simple question of what the FE Exam pass rate was, has now become clear that it goes much deeper than just a statistic.
We would never want you to look at a single number, out of context, and conclude that it'll be an uphill battle for you to get it done.
It will be a battle, but it's one that you can control more than you know.
As we close this out, I wanted to leave you with a few more tidbits to keep in mind that will help you increase your chances of passing the FE Exam.
Understand the Exam Format: This may seem obvious, but you'd be surprised at how many people skim over this. Familiarize yourself with the FE exam specification and format, including the number of questions, time constraints, and the FE reference handbook that is allowed during the test.
Create a Study Plan: We do this for every engineer that comes into Prepineer, but it's also something you can do for yourself. Put into place a well thought out study plan that covers all exam topics and allocates your hours appropriately so that you can stay focused on what you need to be focused on in the moment – and nothing more.
Practice, Practice, Practice: In Prepineer, we call this getting "sets and reps". It's important that you solve practice problems regularly to not only reinforce your understanding of engineering concepts and boost your problem-solving skills, but also, to build an ability to respond to certain problem types regardless of how they are being presented to you.
Take A Diagnostic Exam: Again, this is something that we do in Prepineer, and it's super important. Implementing a practice exam at the onset allows you to know where you are naturally strong and weak so that you can ensure that you are allocating enough time to reinforcing those areas that need to be reinforced.
Join A Study Group: Joining or forming study groups can provide peer support and different perspectives on challenging topics. If you lack a community of engineers studying for the FE Mechanical (or FE Electrical, FE Industrial, FE Other Discipline, etc) then we invite you to come join our private Facebook community, doer's only.
Invest in your health (Mentally and Physically): It's important to maintain a healthy lifestyle during FE prep, this can't be overstated. Proper sleep, a solid diet, and regular exercise can help you stay mentally and physically in the game, increasing your chances of following through not only in prep, but on the actual exam itself.
Simulate Exam Conditions: It's obvious that you should take full-length practice exam under exam-like conditions prior to your exam date. This will allow you the opportunity to get accustomed to the test environment and time constraints. Even more, establish some form of simulation of the actual exam along the way during prep. This can take on many forms, but at minimum, you should structure it with time and randomness to ensure you are building up your ability to perform under pressure.
Prepare yourself for the actual day: It's important that you consider the actual exam day itself and get ahead of anything that can throw you off. What will you be allowed to take in? What does the exam area look like? Will you be able to scratch out calculations? Will you get a break? Is the FE Review Manual a PDF or a hard copy? These are all important questions to consider before the day, you can't afford anything to take your focus away from where it should be.
Next Steps
So you want to prepare for the FE Exam, but…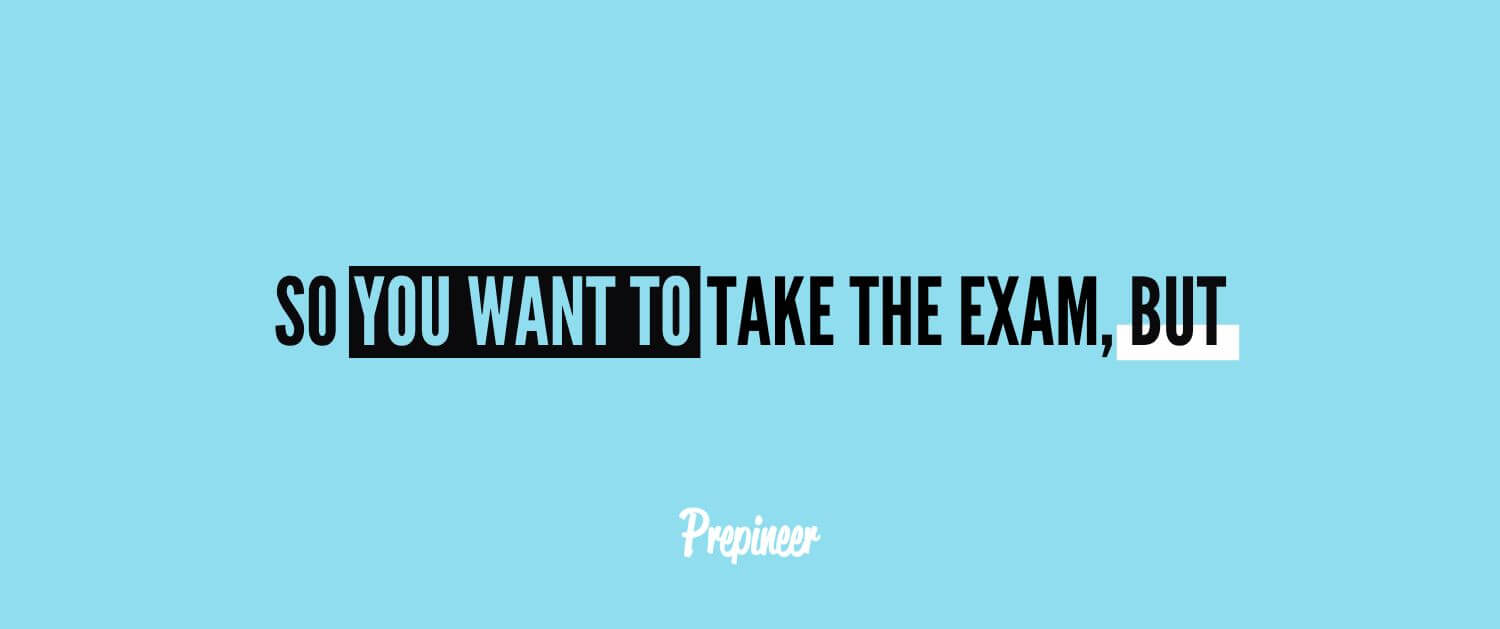 There seems to be a duality of thoughts that come to mind when one thinks of studying for the FE Exam.
On one side, it is overwhelmingly clear how becoming a licensed Professional Engineer will significantly change the trajectory of our career.
On the other, we have heavy doubts on whether or not we could pull off the entire licensure process.
I get it.
But what would passing the FE Exam mean to you?
What would becoming a licensed Professional Engineer mean to you?
If I offered to personally walk you through a program we developed that has helped even the most self-doubting, confidently prepare for and pass the FE Exam, would you take it?
There's no reason why you should keep putting it off when I am confident that you are able to get it done now. Click here for the details and see just how possible an FE exam passing score is.