If you are wondering can anyone take the FE exam, then this discussion will get you that clarity.
We know that understanding the unique ins and outs of the FE Exam can be daunting.
So at Prepineer, we set out to answer the most common questions we get coming in so that you can focus on the more important aspects of FE Exam prep.
In this resource, we will share what we have learned over the last decade helping engineers from all backgrounds successfully prepare for and pass the FE Exam.
Enjoy.
What is the FE Exam?

The FE Exam (Fundamentals of Engineering Exam) is the first of two exams an engineer will take as they work towards becoming a licensed Professional Engineer.
This is a standardized exam administered and scored by the NCEES (National Council of Examiners for Engineering and Surveying).
The FE Exam has 110 questions, covering material that spans a wide range of fundamental engineering concepts, in which, you are given 5 hours and 20 minutes to complete.
Each question is specifically developed to confirm your level of competency in the fundamentals of engineering.
The FE Exam is a computer-based test (CBT) and closed book, though, you will be supplied with an NCEES reference handbook which contains the most commonly used formulas and other useful data related to the material tested on.
You may also hear the FE Exam referred to as the Engineer In Training Exam (EIT Exam) or the Engineering Intern Exam (EI Exam), all of which are the same exam.
We have developed this in-depth resource to help you learn and navigate all the unique ins and outs of taking the FE Exam in your state:
Can anyone take the FE exam?

The short answer is no – but maybe, hear me out.
Eligibility requirements are not set uniformly across the board by the NCEES, but rather, by each engineering Board in its respective state.
With this being stated, when someone is deemed eligible to take the exam in Tennessee may differ from when one is deemed eligible to take the exam in Texas.
You can review your specific state's eligibility requirements here:
It's important to note that eligibility requirements often change so it is best to double-check directly with your state board of Professional Engineers website to confirm the latest rules and regulations.
In most cases, however:
If you are unsure whether or not your program is ABET-accredited, you can perform a program search here:
ABET Accredited Engineering Degree Search
What if I don't have an ABET-Accredited degree?

So what if you don't have an ABET-accredited degree?
What if you don't have a degree at all?
Or your degree is from a university outside the states?
Can anyone take the FE exam?
This is where the maybe comes into play.
Now the actual path to gaining eligibility in these cases will be unique to the situation, which again, I will refer you to this page to hone in on the specifics for your particular state.
However, there are often multiple paths to gaining eligibility to take the FE Exam defined by each state.
The ABET-accredited degree is obviously the creme de la creme when it comes to gaining eligibility, but it's not the only route.
Let's take Alabama as an example.
The Alabama Board of Professional Engineers has established a nice flowchart outlining the various paths to gaining eligibility: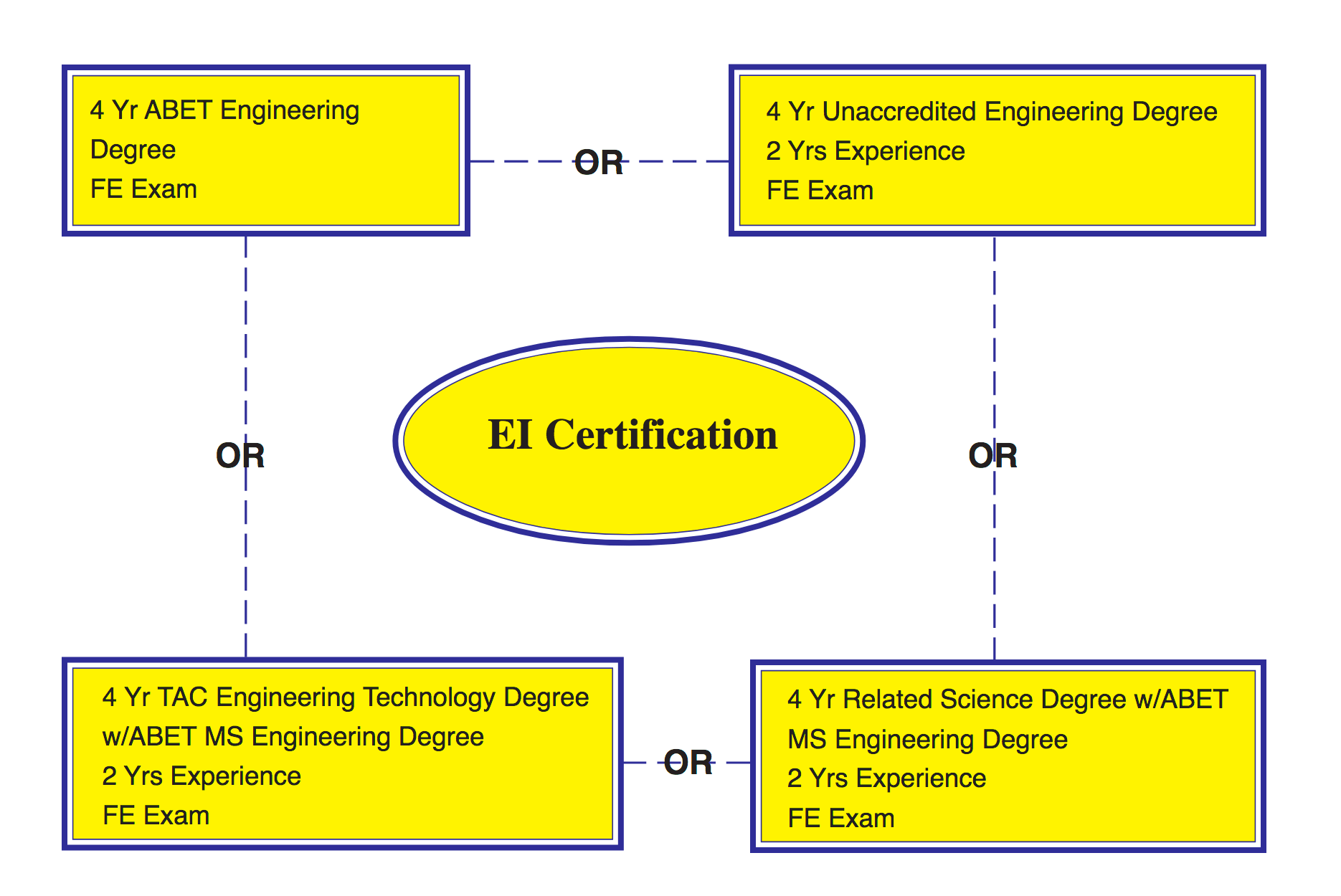 As you can see, everything starts from an ABET-accredited degree and adds on from there.
If one has an unaccredited, TAC or unrelated science degree (plus an ABET MS in the latter scenarios), then an additional 2 years of progressive engineering experience would be required.
You can view this entire flowchart and associated Alabama requirements here.
Let's now jump over to Texas as another example of how each state defines unique minimum eligibility requirements.
In section 133.65 Examination on the Fundamentals of Engineering in the TBPELS Acts and Rules found here, the following is stated:

In Texas, all EAC/ABET, ETAC/ABET, engineering-related and non-engineering related programs can lead one to eligibility, albeit, with those last two scenarios having some additional verification requirements attached.
Final thoughts: Can anyone take the FE exam?

So can anyone take the FE exam?
No and maybe.
There are states that provide eligibility scenarios for individuals without an engineering degree but are able to show that they have "some number of years" of progressive engineering experience that make up for it.
But again, to make sure that you know the latest eligibility paths for your state, this resource was put together to ensure you get all the answers to your questions:
Knowing whether or not anyone can take the FE Exam is one thing, preparing for it is a whole'nother beast.
Preparing for the FE isn't a cram-by-night and get-it-done type of journey.
This isn't written to scare anyone away from pursuing their goal of becoming a licensed professional engineer.
It's more to set the expectations and give over a decade of experience of what works after being on both sides of the coin ourselves.
At Prepineer, we believe that personal coaching, mentoring and accountability aren't just some good things to have in place –
They are must-haves.
They normalize the struggles, the doubts and the uncertainties, giving us clear direction and energy to sustain through them all.
If passing the FE Exam has felt like a mountain of a task, we are here to help you change that and find success.
Click here to see how personal coaching can help you make the dream of becoming a PE a reality.